As the days are dark and cold, there is nothing like sitting down with a good book to feed your brain and get you ready for the challenging week ahead. Here are four good reads to get you started.
The Lean Strategy
Using Lean to Create Competitive Advantage, Unleash Innovation, and Deliver Sustainable Growth
by Michael Balle, Daniel Jones, Jacques Chaize and Orest Fiume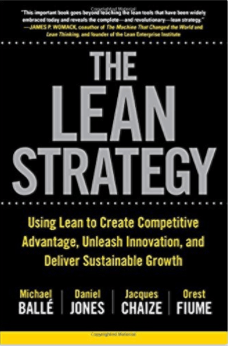 A lean strategy is about gaining a competitive edge by offering better quality products at competitive prices and making a sustainable profit by eliminating waste through engaging employees in discovering deeper ways to think about their own jobs and smarter ways of working together. In its current form, lean has been radically effective, but its true powers have yet to be harnessed.
Lean Strategy harnesses that power and delivers a new way of creating value from lean. Leading lean experts address popular misconceptions about the basics of lean/TPS, showing the true purpose of tools, methods, and attitudes that leverage the intelligence of every employee doing the work. You'll learn how to think―and then act―differently, tapping the power of every person in your organisation in a disciplined manner that generates unparalleled, sustainable success that is responsive to today's most pressing challenges
The Work of Management
A Daily Path to Sustainable Improvement
by Jim Lancaster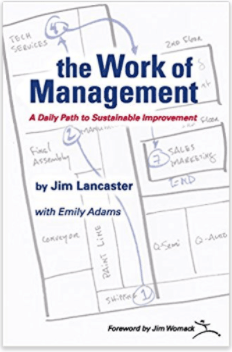 Jim Lancaster tells an inspiring story; It's a close-up, candid look at his personal transformation as a leader. It's also a practical, in-depth, business case study of Lantech's lean transformation, relapse, and comeback that American manufacturing – and other industries – can use to profitably transform themselves. In his engaging story, Lancaster reveals: Why Lantech, a stellar lean performer for a decade, struggled over time (like many other companies) to sustain gains and improve financial performance. Why 60 to 90 minutes of daily frontline management activities are a CEO's most important minutes of the day for sustaining and growing their business. 8 steps executives can take to lead experiments to create a bullet-proof, real-time daily management system without expensive consultants. Why daily management requires a major shift in managers' mindsets and behaviors from giving orders and judging individuals on performance to asking questions and enabling good work by people at lower levels so metrics are routinely met. How daily management and sustainable continuous improvement produces dramatic positive effects on the bottom line. What happens in daily huddles where team members review how well they are sustaining gains and staying on track. How to practice true lean leadership in which "bosses" truly act like coaches — not solving problems for people but asking them what they can to do help. How Lantech ties together all facets of the company in an integrated way (from sales to production). Why it deeply invests in the lean training and practice of every single employee every day.
On Time In Full
Achieving Perfect Delivery with Lean Thinking in purchasing, Supply Chain and Production Planning
by Tim McLean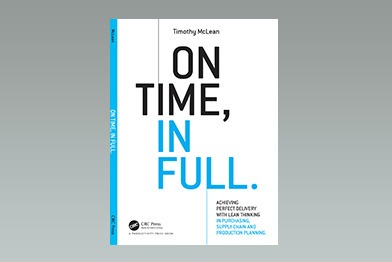 This book is a practical guide for manufacturers on how to meet a fundamental requirement – how to deliver to the customer the right product in the right quantity at the right time. While the concept of on-time delivery seems deceptively simple, achieving it can be incredibly complex. This book unravels this complexity and provides simple, practical solutions that will enable every manufacturer to delight customers with reliable, consistent on-time supply at a competitive cost. It covers the end-to-end process of delivering an order to the customer, from understanding customer demand and forecasting, through production scheduling, supply of materials and delivery of finished goods.
Grow your Factory, Grow your Profits
Lean for Small and Medium-sized Manufacturing Enterprises
by Tim McLean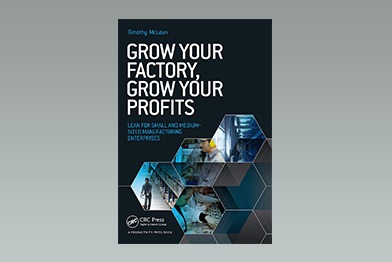 The last 25 years has seen Tim lead and assist over 100 small to medium-sized enterprise (SME) manufacturing operations. This experience has now been condensed in to Grow Your Factory, Grow your Profits: Lean for Small and Medium-Sized Manufacturing Enterprises, a start-to-finish guide on how to run a successful small and medium-sized manufacturing operation.
The book presents case studies, practical examples, illustrations, charts, and pictures from real SME manufacturers to provide straightforward solutions to the issues facing every growing manufacturing business. In the book, Tim McLean explains about recruiting the right people, empowering them and many more elements key to getting you up and running with your Lean improvement to meet your needs and grow your business.
The book details how SMEs differ from large organisations and why the approach to improvement must also be different. Covering the complete life cycle of small and medium-sized manufacturers, the book addresses a different SME manufacturing issue in each chapter. This enables readers to tackle issues at their own pace and in their own order of priority.
Grow Your Factory, Grow Your Profits is essential reading for owners, managers, and operational leaders in the 90 percent of manufacturing enterprises that are small or medium sized.