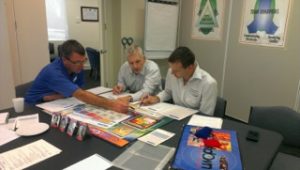 Following up on the popularity of the "Countdown" Project Management workshops that we ran earlier this year, TXM and Best Practice Network are pleased to announce another round of Countdown One Day Project Management sessions in November.
Workshops will be running in:
Effective project management is critical for businesses with lack of skills in this area the cause of cost overruns, delayed projects and even business failure. Countdown is an award winning internationally recognised project management training program. It involves a powerful, high-involvement project simulation in which teams assume roles at a fictional company with a critical need to improve their project management processes.
Participants have said:
"I must say COUNTDOWN was one of the most successful and well received learning/educational programs we have run within the operational areas of CSL. We used COUNTDOWN as a 'team-building' learning experience prior to the commencement of a particularly complex and time constrained plant upgrade project. The innovative approach of the Countdown program, with its 'hands on', team-based style of learning broke down many barriers, and was enjoyed by the entire group."
Bill Cracknell – Operations Manager – CSL Pharmaceuticals.
"I have been using Countdown in my role across three different organisations. We have found the business simulation to be an excellent tool for people at all levels.
Countdown provides insight into the challenges of working in a project team and managing stakeholders under pressure. We always have fun too!"
Cathy Ulbrick – Capability Lead – Ulbrick Insurance.