Whether you are starting off your Lean journey or trying to ramp it up to the next level, you need to engage your WHOLE team; from your Drivers in Dispatch, right through to your Sales team and Accounts, and EVERYONE in between.
Here are the Top 3 opportunities to engage your team in Lean.
1. Communicate, Communicate, Communicate
Again and again and again
Tell everyone that something is happening
Share the "True North" message
Tell everyone what is happening and when and why
And remember: email is only one form of communication and not the most effective
Consider including a "Lean minute update" in every briefing and toolbox talk
Also post information on notice boards, Team boards and lunch rooms so it can be read in your team's own timeframe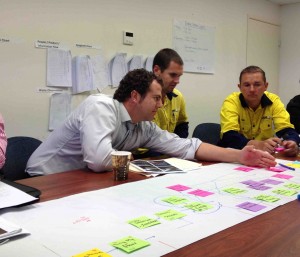 2. Include People Through Cross Functional Teams
Value stream mapping is a key first step with any improvement program and is most effective when developed with a cross function team. This allows a team to begin to really understand how each area of the company functions and provides the opportunity to get to know people in other areas of your company. This makes it easier to seek out information when you already know people in other areas.
As you move into Lean Implementation Phase, this cross function team can lead separate projects and involve their teams during the implementation process.
3. Use Good Housekeeping and P5S to get everyone involved
Improving your housekeeping across the company with Practical 5S is the BEST way to engage all of your team in Lean. It must not be done TO your people; it must be done WITH your people. This allows every person to consider what is needed in each area and as a team, determines the layout of the area and setup of the work stations or equipment. Encourage your teams to set up trials and pilots to see what will work and what needs tweaking. We want our teams to learn through implementing. As your team gets used to having a say in their working environment, their tasks can be expanded to include auditing and contributing to standard work.
If you need help engaging your team in your lean implementation, contact your TXM consultant or the TXM office today!