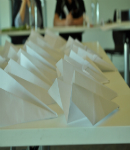 Free Lean Workshops
Following the popularity of our Lean for Small and Medium Sized Enterprise workshops around Australia, three new workshops have been confirmed. The new workshops are:
Monday 7 May, Melbourne – Hume Global Learning Centre, 1093 Pascoe Vale Road, Broadmeadows, VIC, 3047. 8.30am to 4.00pm
Tuesday 29 May, Canberra – AI Group Canberra Office, AMA House, 42 Macquarie Street, Barton, ACT, 2600. 8.30am to 4.00pm
Tuesday 12 June, Brisbane – Deloitte Brisbane, Level 23, Riverside Centre, 123 Eagle Street, Brisbane, QLD, 4000. 8.30am to 4.00pm
The workshop is aimed specifically at owners and senior managers at small and medium sized manufacturing operations.
Why SMEs fail to grow profitably and how Lean can help.
The core elements of lean thinking and how they apply in smaller businesses.
How Lean concepts work in practice through the world famous "Paper Airplane Simulation" – a practical way to understand and apply core lean concepts such as pull, flow and level production.
The eight critical success factors for implementing Lean in an SME.
During the day you will be coached to develop a simple A3 Lean action plan for your business, so that you can get started right away on your Lean journey.
Note that these FREE workshops so far have booked out, so make sure you register early to reserve your place.