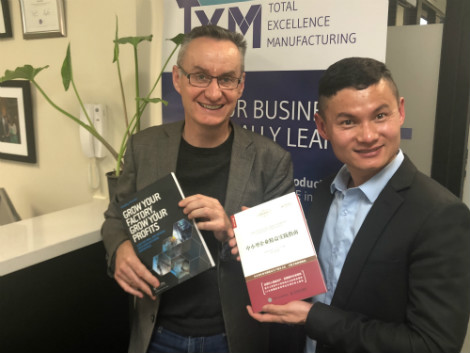 TXM Managing Director, Tim McLean's first book, "Grow Your Factory, Grow Your Profits: Lean for Small and Medium Sized Manufacturing Enterprises" (Productivity Press, 2014) was recently released in Chinese translation. Tim and TXM have worked with a range of small and medium sized manufacturers in China and they face many of the same challenges faced by growing manufacturers around the world. Therefore it made sense to release the book in China.
The book features a foreword by leading Chinese Lean Thinker, Dr Marcus Chao, the Managing Director of Lean Enterprise China.
TXM China Consulting Director, Justin Tao, was instrumental in organising the Chinese edition and, as an experienced translator himself, reviewed the translations before they were sent to the publisher. However special thanks must go to the translators, Martin Yu and Annie Zeng who worked for over a year to translate the book in to Chinese.
The Chinese edition has been released by Posts & Telecommunications Press and can be purchased from their website www.ptpress.com.cn
The original English version of "Grow Your Factory, Grow Your Profits" can be purchased from the TXM E-Store or from your favourite on-line bookseller.