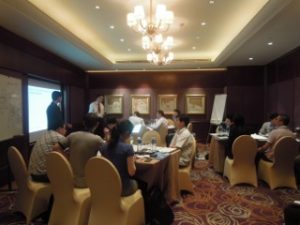 The Lean Packaging Workshop presented by TXM Managing Director, Tim McLean, at the Lean Enterprise China Summit in Shanghai last week really struck a chord with participants. Workshop attendees included Manufacturing and Lean Leaders from Dupont, Ingersoll Rand, hair clipper manufacturer, Wahl and the worlds largest pencil factory, Axus. All attendees faced similar challenges with packaging one of the most complex areas of the production process. The participants learned how to understand their packaging process by developing a packaging value stream map as well as practical ideas for improving the management of packaging materials in their business. The workshop also discussed the challenges of working with packaging suppliers who are not "lean", especially in China.
A highlight of the workshop were the industry case study presentations. Le Kebin, Vice Managing Director at Young Sun Printing, a major supplier of food and pharmaceutical packaging, talked about how he was developing a lean value stream for printing in order to drive down lead time and improved service to his customers. Jamie Lafferty, Lean Manager at Axus, the worlds largest pencil manufacturer lead a joint presentation with the Production Managers at Axus explaining how Axus had used outsourced kitting of packaging materials to manage the extreme complexity of their packaging challenge.
Lean packaging is clearly a topic that is relevant to many businesses and presents a waste reduction opportunity for packaging users and packaging suppliers alike.
The Lean Enteprise China Summit brought together around 200 lean experts and speakers to hear from International Speakers and Lean Practitioners in China. For the TXM team the Lean journeys of casting manufacturer ACME Alliance and huge Chinese manufacturing conglomerate CIMC to introduce lean were particular highlights along with Dr Zhao's presentation about relating Chinese culture to Lean Thinking in order to promote change in Chinese private companies.