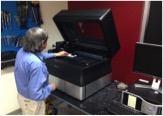 Come and see how one company, Invetech, are utilising 3D printing as an integral part of their product development processes. The next Best Practice Network event will be at Invetech in Mount Waverley on Wednesday 22 April 2015.
The RMIT Centre for Additive Manufacturing (RCAM) has been at the forefront of 3D technology. Professor Milan Brandt will give a broader overview of how industry is currently using 3D printing and the benefits it brings.
Short lead time
Less material waste
Complex geometry
Light weighting
Manipulation of structure – manufacture   for   design
Cost Reduction
Worn/damaged and corroded profiles can be restored to     their original shape and performance integrity
Invetech is a leading product realisation company specialising in the development and manufacture of complex diagnostics instruments and devices. Inherent in their design and engineering process is the use of rapid prototyping (3D printing) to help accelerate development schedules.
They utilize 3D printing at multiple stages in their development process including the use of:
Entry level Fused Deposition Modelling (FDM) for quick iteration of prototypes and test beds
Objet printing (Polyjet technology) for appearance models or where finer details are required on prototyping
Outsourcing of 3D printing services for specialised functions such as metals, transparent materials, or where higher strength and durability is required.
Their sister company, Leica Biosystems, is also applying 3D printing technology to its manufacturing process, achieving significant cost of goods savings by unifying complex components into single printed parts.