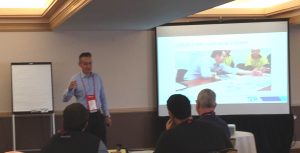 TXM Managing Director, Tim McLean, will be presenting a full day workshop at the Association for Manufacturing Excellence USA Conference in Boston, Massachusetts on October 9-13. AME USA is the largest and most well attended Lean and Operational Excellence Conference in the world.
Tim's workshop will focus on unlocking the secrets of the lean supply chain. It will feature the ideas explained in Tim's new book, On Time In Full: Achieving Perfect Delivery with Lean Thinking in Purchasing, Supply Chain and Production Planning which was released by Productivity Press in the US this month.
Tim's workshop will focus on addressing the six reasons why companies fail to deliver on time and in full to their customers.
The most fundamental requirement for a manufacturing or distribution business is to deliver to customers what they want, in the right quantity, when and where they want it. If your customers cannot get this, they will go elsewhere. In this interactive workshop, learn:
The role of forecasting in the supply chain – what it can do and what it can't do.
How to use an extended value stream map to reduce lead time.
How to establish a simple sales and operations planning system to manage the future.
How to get the right materials at the right time in the right quantity.
How to manage international supply chains.
How to design the optimum distribution network for low cost and perfect delivery.
Participants will discover how to develop a 'perfect delivery A3 plan' to provide a practical road map to overcome delivery problems.
Tim will be supported by Victor Caune, the Victorian Best Practice Network Director, and Tim and Victor will be developing a new Lean supply chain simulation specifically for the event.
Learn the Six Reasons Why Companies Fail to Deliver On Time and In Full.