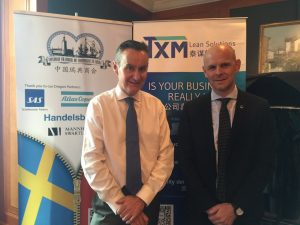 TXM Director, Tim McLean has spent the last week in Shanghai. The week has featured a high level engagement with the European business community in Shanghai. TXM has an outstanding track record working with major TXM Customers in China, Australia and around Asia. TXM is looking to build on this success through making more European businesses in China aware of the services we offer.
On Tuesday 23 February, Tim presented a talk to the British Chamber of Commerce in Shanghai focusing on the challenge of staying competitive in China. Over the past five years, European companies manufacturing in China  have faced an increasingly difficult competitive environment. A significant amount of production has been shifted back to manufacturing locations closer to Europe, particularly to Eastern European EU countries such as Poland. This is despite productivity in China remaining less than half that in Western manufacturing countries. Tim's talk therefore focused on how British companies in China can close the productivity gap using Lean thinking so that their Chinese operations can stay viable and start to grow again.
On Thursday 25 February Tim and TXM China Consulting Director, Justin Tao, presented a breakfast seminar at the the Swedish Chamber of Commerce in Shanghai. This presentation focused on the challenges of implementing Lean in Chinese factories. Justin explained how lean principles can sometimes be on a collision course with Chinese cultural values and how lean implementers can avoid and overcome these problems. Tim talked about the reasons why common approaches to Lean deployment in China had such a poor success rate and how to design a successful Lean deployment in China. The event concluded with a lively question and answer session where the attendees, who represented a wide range of Swedish manufacturers in China discussed the challenges they were facing implementing lean.
In March we keep the European theme going, with Justin Tao to present a one day lean for middle manager's course at the European Union Chamber of Commerce in Shanghai. This workshop will be presented at Chinese and will be aimed at increasing the Lean awareness and Lean Leadership skills of local management teams in European companies in China.
Read more about the Lean for Middle Manager Training at Eurocham