TXM help boost production of essential face shields for the National Health Service UK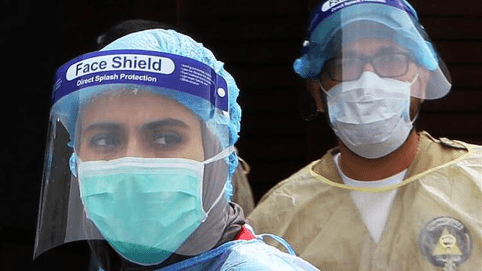 The current COVID-19 is throwing up some unexpected situations and new challenges and last Friday was no exception. Just as he was getting set up for a bit of work in the garden, TXM Managing Director, Tim McLean, received a call from one of our key customers in the UK.
Our customer was working the night shift helping lead a team of almost 100 people who had volunteered to help assemble 30,000 plastic face shields for NHS workers on the front line in the fight against COVID-19.
Our customer had attended several TXM Lean workshops and could see many of the problems we had talked about appearing in the face shield "production lines" – inconsistent output, build ups of work in progress and lots of non-value added time.
Over the course of Friday in Australia (Thursday night UK time), Tim coached the team in the UK using Zoom video to improve the face shield production lines.
As a result, they were able level the rate of production down the line, eliminating the work in progress build ups and resulting waiting times.
They also managed to reduce the number of people per line from seven to five opening up the potential to add more lines and increase output by up to 40%.
By the next morning the team Tim was coaching reached their target 45 minutes ahead of the other teams on the project.
The 30,000 face shields were completed and are on their way to protect health workers around the UK.
The customer is considering another "production run" and TXM have already volunteered to send one of our UK team to their at no charge to help the team to set up for Lean production right from the start.
TXM Developing the "Accelerated Productivity Programme" to Boost Production in the Crisis
Here at TXM we are developing an "Accelerated Productivity Programme" to assist companies to rapidly ramp up production to meet exceptional levels of demand caused directly or indirectly by the COVID-19 pandemic. Apart from the face shields we are talking to food distributors and a meal delivery companies in the UK and a face shield producer in Australia.
If you are facing unprecedented demand and need help to quickly scale up. Contact TXM today!