Our first  Networking  has held on Wednesday 8th June at Sykes Racing Geelong. 
This Workshop is part of a series in an innovative new service, the TXM Manufacturing Excellence Network. The network is aimed to take your business to the next level of operational performance. The workshop is a opportunity to develop and inspire your teams towards building a true continuous improvement culture. Tim Mclean refers to it as "a cost effective Maintenance Contract for your lean production system". The benefits of the TXM Network are to learn together and benchmark with other similar companies facing similar lean implantation challenges. A chance to hear and see ideas from other businesses have achieved.  Also having access with in the host company to work "hands-on" with current lean challenges.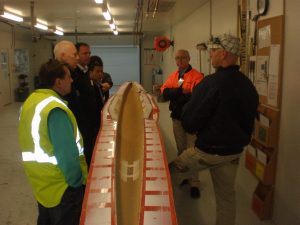 The Skyes racing  workshop started at 9am after many had driven down from Melbourne (thanks for making the long trip).  The morning was set aside to review Skyes Lean journey so far and key gains it has achieved.  After a site tour the attendees had a chance to reflect on the good points and areas of improvements that they could take back into their own organisations.
After lunch we split into two groups to focus in on current operational issues, Inspection paper work and store part supply . Both these projects where explored by data collection via a GEMBA walk and the using the PDAC Cycle to explore possible solutions.  At the conclusion of the day each teams reported their findings and recommendations.
Attending companies where Fortress Systems, Schuetz DSL, Form 2000, Ferguson Plarre Bakehouse, Winchester and Laminex (Ballarat plant). Thank you to Jeff Lawrence and his Team at a Sykes Racing for hosting the event and we look forward to returning in 2012. The next event is Wednesday 17th August at Ferguson Plarre Bakehouse.