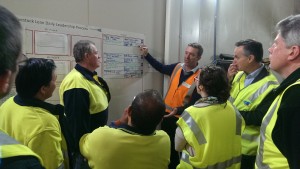 Following our highly successful participation in the Association for Manufacturing Excellence (AME) Conference in the USA this month TXM will be a major sponsor and active participants in the AME Australia conferences in Perth and Melbourne on 23-27 February 2015. The TXM team will be at both conferences to share our expertise with delegates and introduce our services as well as presenting at the conferences and having the first copies of our new Lean book on sale.
TXM will be the sponsor of the Perth Conference dinner, which will feature Featuring Kimberly Watson-Hemphill, a globally known expert in innovation and operational excellence.
The conferences will run from 13-26 February in Melbourne and 26-27 February in Perth and will include international keynote speakers, Kimberly Watson-Hemphill and Drew Locher, site visits to Toyota Boshoku, Vistaprint, St Vincent's and Australian Red Cross as well as a wide range of other presentations from industry practitioners.
TXM Managing Director will be also presenting a shorter version of his highly successful Lean Manufacturing for Small and Medium-Sized Manufacturing Workshop at the AME USA Conference. This presentation is based on Tim's new book, "Grow Your Factory – Grow Your Profits: Lean for Small and Medium-Sized Enterprises", which will be available for purchase at the conference.