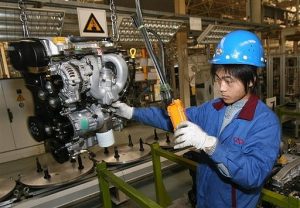 The Automotive Supply Chain is the most demanding in the world. For China to reach its potential as a global automotive superpower, every partner in the Chinese automotive supply chain needs to reach global standards of lead time, productivity, delivery, and quality. This is especially important with Tier 1, Tier 2, and Tier 3 suppliers trying
to cope with the demands of Chinese assembly plants and global customers. Around the world, the automotive industry has used Lean Thinking to achieve these standards. In fact it is almost impossible for Automotive suppliers to meet the quality and deliver the needs of their customers without effectively implementing Lean techniques.
Lean Consultants, Tim McLean, and Justin Tao will address these issues in an interactive bilingual workshop aimed at local and Foreign automotive suppliers operating in China. The workshop is presented in co-operation with IMC Powers and we expect to meet a wide cross-section of Chinese Automotive Industry Leaders and Supply Chain specialists.
The workshop will be on March 6th at the Sofitel Shanghai Hyland Hotel, East Nanjing Road from 1.30 pm to 5.30 pm