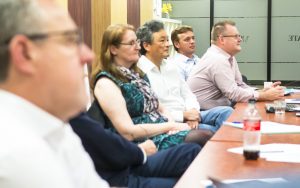 July saw many of the TXM lean consulting team converge on Melbourne for a two day professional development meeting. TXM has invested heavily in recent years in developing the skills of our consulting team and the resources they have available to deliver outstanding results for customers around the world. Previous meetings have focused on defining the TXM approach and TXM standard work for key Lean tools and techniques. This has lead to development of the TXM Pathway, our unique and highly flexible approach for coaching our clients in implement Lean.
This month's workshop focused on some of the elements of achieving a successful Lean transformation in a customer's business. This is often more about the process of understanding the customer and managing change that the Lean tools themselves. Key themes of the two day workshop included:
Understanding the customers needs and goals through the sales process.
Engaging the customer at the start of the project and throughout the project.
Measuring and quantifying the benefits of Lean.
Sharing and collaborating is a big feature of the TXM approach and so on each topic, TXM consultants presented their own experiences and approaches. The result was new ideas and techniques that our consulting team can apply to deliver better outcomes for your business.
The next professional development day has been set for November and continues our goal of achieving a high quality and consistent standard of Lean consulting delivery across every member of our team across the world. So when you engage a TXM consultant anywhere in the world, you will know to expect highly professional skilled consultants able to deliver sustainable positive change in your business.