TXM will once again be represented at Stand 501 at Austech 2013 in the Melbourne Exhibition Centre from 7 to 10 May 2013. Visitors will be given the opportunity to discuss their lean manufacturing needs with TXM. We will be showcasing the recently launched online store that provides many of the key visual tools needed to improve the lean production systems and assist with managing routine daily tasks, problem-solving, and planning production. Lean manufacturing is not limited to large businesses – small to medium enterprises can experience the benefits that the implementation of a program will bring.
"It is important for businesses to find the right approach that will fit their business to successfully implement a Lean Manufacturing model," explains Tim McLean, Managing Director of TXM Lean Solutions. "Over the past eight years, TXM has built a reputation as the leader in helping advanced manufacturers improve their productivity, agility, customer service, and quality through lean. Our lean manufacturing consultants have experienced manufacturing first hand and are well equipped to understand how business operates and how it can be improved. We work closely with our clients to ensure that improvements are sustained for the long term."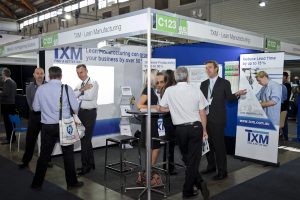 The results for many industries adopting a Lean Manufacturing methodology have been improvements in lead times, inventory costs, productivity improvements, enhanced product quality, and customer service, and improvements in staff morale. Lean Manufacturing is a highly effective set of management techniques aimed at the systematic elimination of waste in all its forms in every part of a business.
The team at TXM has developed a Total Excellence System deployment program for medium to large manufacturing businesses. Encapsulated in the program is the Manufacturing Agility Process® to drive down lead times and cost and the Lean Daily Leadership Process® to develop front line leaders and empower them and their teams to solve problems and improve performance. Practical 5S™ then creates organised standardised and efficient workplaces with visual controls, while Solving Problems Every Day® provides the organisation with quick and effective root cause analysis and problem-solving skills to enable problems to be dealt with on the shop floor and drive continuous improvement.
Talk to TXM about our Latest Advanced Manufacturing Case studies
TXM has enabled Ronson Gears, a manufacturer of gear products to significantly improve business performance. TXM worked with Ronson to improve the flow of production to enable the company to reduce lead times, increase productivity, and improve delivery to customers. The project led to an improvement in the shop floor culture at Ronson with all team members gaining a greater degree of engagement in the improvement process and overall business performance. "We understand that it takes time before our customers and ourselves start to see the real benefits of what has been implemented, but we are already experiencing some great results," said Jason Graham, Ronson's Lean Champion. "For example, over the years a customer of ours was often chasing us for their gears but since we implemented lean initiatives, passed on by TXM, we now deliver more frequently in small batches and haven't heard from them since this practice was undertaken, with relation to delivery."
Another success story for TXM is Heldon Products Pty Ltd, a manufacturer of components for the commercial refrigeration industry. Working with the company, TXM was able to greatly improve plant layout and productivity in the manufacture of custom made pressure vessels. This was a great demonstration of the Manufacturing Agility Process in both reducing lead time and increasing output. Heldon has recently committed to a further phase of work at their Tullamarine plant and have also engaged TXM to assist in improving its joint venture operation in Taizhou China. "There is no doubt that the methodology of TXM works," says Heldon managing director, Peter Lang. "Working with TXM achieved the goals we set out to accomplish, but the stand out was the company's dedication to ensuring that the projects were not just implemented but that they worked for the long haul. I was impressed with their work ethic enough to recommend that our China operations use TXM. Our counterparts in China have been equally impressed."
The skills and expertise of TXM have gone from strength to strength enabling many more companies of any size to realise the benefits of employing a lean manufacturing philosophy. In the last year, TXM has expanded its operations in Australia and China to meet the increasing demand. With offices now operational in NSW, Queensland, Western Australia, and New Zealand, TXM welcomes to the lean consulting team in Australia Ron Spiteri and Greg Boek.
Ron and Greg bring to the company knowledge and experience of the outstanding lean production systems in Boeing, UTC, Ford, and Autoliv. Ron will focus on supporting Queensland and NSW customers while Greg is Victorian based. "We welcome the expertise that Ron and Greg bring to TXM, it can only enhance our ability to provide expert advice to our customers," said Mr. McLean. "Visitors to our stand will have the opportunity to speak with both gentlemen at Austech2013 to discuss how lean manufacturing can assist in business operations."