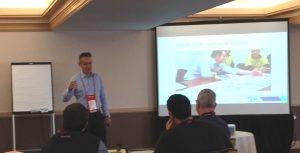 The AusIndustry Entrepreneur's Programme has engaged TXM to run a free Lean workshop series around Australia aimed at small and medium sized enterprise. TXM Managing Director, Tim McLean, will present the workshops. Tim is an internationally recognised expert on the implementation of Lean in small and medium sized enterprises. Tim's book, "Grow Your Factory, Grow Your Profits: Lean for Small and Medium Sized Manufacturing Enterprises" has sold globally and was recently published in a Chinese edition. The workshop is based on the book.
The one day free lean workshop is designed to get smaller businesses started on their Lean journey and will cover:
Why achieving profitable growth is such a challenge for small and medium sized businesses.
Core Lean Manufacturing principles that will help you see opportunity in your business.
How to apply Lean through a simple, practical, hands-on simulation.
Why a "big company solution" like Lean works so effectively in small businesses.
The steps to successful Lean implementation in small and medium businesses.
How to unlock your business' growth potential.
Past workshop attendees have given some great feedback, including:
"Very good course, and make you look at every thing you are doing and question could it be done better with less waste"
"The course was excellent and I would recommend it to anyone who hasn't yet been an a course like this"
"Course material provided some light bulb moments, very helpful in making a SME take the next step."
"Brilliant up to date content that is useful straightaway. It is not all theory it is practical stuff demonstrated well."
Confirmed workshop dates are:
Newcastle, NSW – 15 February.
Sale, Vic – 27 February.
Altona, Vic – 8 March.
Narre Warren, Vic – 20 March.
Wantirna South, Vic – 11 April.
Perth, WA – 17 April.
Epping, Vic – 18 April.
Canberra, ACT – 24 May
As well workshops are planned for Brisbane, Regional South Australia and Melbourne's inner north.