TXM has had a long relationship with the Association for Manufacturing Excellence (AME), one of the leading global bodies supporting lean and manufacturing excellence.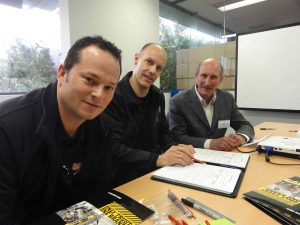 In July TXM Consulting Director, Anthony Clyne, conducted an interactive half day lean learning event at ladder manufacturer, Branach in Bayswater in Melbourne. Branach are a long time TXM customer (read our case study). and have done an outstanding job at implementing lean across their business. This has helped provide a platform them to double their sales over the past five years and significantly improve productivity and lead times.
Anthony's lean workshop focused on lean standard work. The participants got to tour the Branach plant, learn about their lean journey and then got to apply lean standard work analysis to a real process at Branach in one of their subassembly cells. This gave them hands on experience in applying standard work and also gave Branach some innovative ideas on how to eliminate waste in the processes studied.
TXM's next AME Event will be in Perth on September 14th. Stay tuned for more details.