TXM Managing Director, Tim McLean and TXM China Consulting Director, Justin Tao are presenting to an Austcham Shanghai Breakfast on Friday 23 October about creating a continuous improvement culture in China.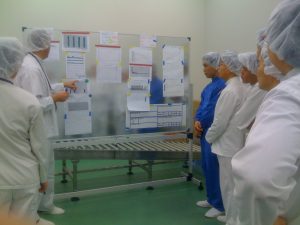 The China manufacturing story over the past 20 years has been one of growth. Increasing output to meet seemingly insatiable demand. The last two years have ushered in a new paradigm – slowing growth, spiralling costs, especially wages and fierce competition. In this new world, many companies are looking at their Chinese factories and seeing massive inefficiencies. Companies have turned towards the solutions that have worked in the rest of the world, Lean Manufacturing and Six Sigma. However the results in most cases have been disappointing and frustrating. So how do you successfully achieve a sustainable lean transformation in your Chinese factory? What is different about implementing leant in China and how do you create a sustainable culture of continuous improvement where your operations team have the tools and motivation to keep improving performance?
• Creating a collaborative lean supply chain with your Chinese operation.
• Achieving built in quality and culture of "right first time" rather than total reliance on 100% end of line inspection.
• Engaging leaders to drive continuous improvement.
• Reducing lead times and improving flexibility.
• Increasing labour productivity and getting the incentives right.
Find out more and register at the Austcham Website