Senior Lean Consultant Rob Chittenden Celebrates 10 years with TXM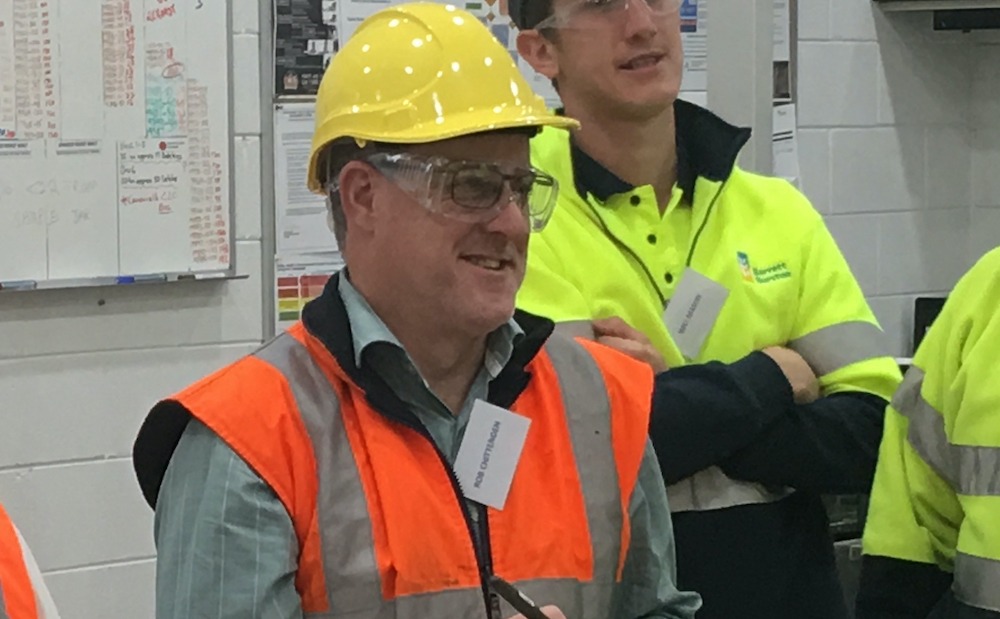 October 2020 marks ten years with TXM for Melbourne based Senior Consultant, Rob Chittenden.
Rob joined TXM after a career as an Operations and Production Manager in leading manufacturers. A key adjustment for Rob moving from management to Lean coaching was learning the skills of "leading without power". Lean consultants work solely through influencing others, which contrasts to the inherent position power that comes with line management roles. Learning to "lead without power" was initially a challenge, but it is now a strength for Rob.
It has given him the confidence to transform businesses to achieve big and lasting results using Lean. Robert has developed his own highly effective style of consulting and his confidence is evident in the way that he speaks about his time with TXM.  "The relationship with customers" says Robert, "is the key to success. This enables customers faced with major change to believe that they 'can do it'. There is a lot of project management involved along with communicating to customers how improvements can be made in a way that makes sense for them and their business".
Rob's time in aerospace provided him with a good background. Aerospace companies were early adopters in the 1980s of streamlining processes, integration, adopting digital systems and using software. All of this proved applicable to the smaller businesses that were the staple of Rob's earlier consulting work at TXM. Changing from a full-time employee of a big corporate organisation was a transitional time for Robert as he joined TXM, but he adapted into the consultancy role and it has been a good fit for his skills and abilities.
Rob's First Project: Ronson Gears

Rob's first project with TXM was with Melbourne based precision engineering company, Ronson Gears. The project was so successful that it went on to win the "Enterprise Connect Best Project" award at the 2013 Endeavour Awards. After that Rob has become an expert in applying lean in metal manufacturing. However, his experience has gone well beyond that industry to companies in food, agriculture, wood products, modular building, packaging, chemicals, distribution, warehousing, printing and equipment hire industries to just name a few.
Robert likes the variety of work, the travel and the different locations and countries that he has worked in. At Kingston Estate Wines Rob worked in a remote part of South Australia to coach the team there to use 5S to reduce overprocessing and double handling that was doubling costs.
Highlights from 10 Years with TXM
A major highlight for Rob has been his role in the Victorian Regional Manufacturing Clusters program. TXM partnered with Ai Group who were contracted to deliver coaching support to 100 regional Victorian business. This two-year project saw Robert working with 30 different small and medium sized businesses in Shepparton, Bendigo, Horsham and Echuca.  Rob enjoyed travelling the State and getting to know the businesses and the people running them. The small workshops focused on introduction to lean, improving their business performance using TXM methodology and building Lean foundations such as 5S.
Going to the UK on a work trip was another highlight but getting there was a long haul and knowingly driving past the Stone Hedge but not being able to see it from the road was a disappointment.
Robert is a keen cyclist and working in regional Victoria has given him an opportunity to spend hours exploring the area on his mountain bike. He packs his mountain bike on every regional and country trip. There was a job in Tasmania this year that he was looking forward to taking his bike on, but it didn't eventuate due to Covid-19.  The lockdown time saw Robert learning how to sew face masks which then inspired him to take up quilting using the sewing machine. He is enjoying using the sewing machine which he says is quite a mechanical process.
During the lockdown Robert has had a leading role as TXM has innovated and adapted to using digital tools such as Zoom and the Miro "digital white board" to keep working with customers. This has enabled Rob to produce good project outcomes without going to sites.
What pleases Robert is that all of the jobs that he has worked on have led to businesses being happy with the results achieved. This has often meant savings for the companies which continue even after 5 years says Robert. "Sometimes you get more connected to a business that you are working on but there are limitations as you may only have a few days per month in a business. So, the challenge is to empower the business to take on the tasks and make the change themselves rather than doing it for them", says Robert. "Sometimes you are adapting and flying with the business. Some companies like rules and some don't but Lean is about setting and improving standards. Therefore, you need to be flexible in coaching the business to achieve their goals but still staying true to the Lean principles" Robert explains.
Always Helping TXM Stay Relevant to Our Customers
Over his 10 years with TXM, Robert has seen the development of TXM Lean material and methodologies grow to form effective tools to be used on the job. TXM has ventured into new fields such as agriculture, food and warehousing which are now staple customers.
Robert has also enjoyed working on bigger projects which have included other consultants. "You often don't get a chance to work with your colleagues given the nature of consulting", says Robert. He also appreciates the support that he has received through TXM's ongoing professional development for consultants. This ranges from regular phone calls to review progress on his consulting work to consultant "in service" days where consultants from around the country get together to share their experiences and discuss common challenges. Rob finds this learning and sharing highly beneficial.
TXM Managing Director sums up Rob's decade of experience by saying "Rob epitomises TXM values. He is highly professional and highly skilled, but also passionate about making lasting improvement for his customers. He is a Lean enthusiast that clearly enjoys what he does. He is constantly open to new ideas, innovative approaches and refining his consulting practice. We have really enjoyed working with Rob over the past 10 years and look forward to working with him to deliver success for TXM customers long into the future".