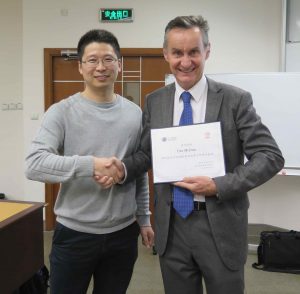 TXM Managing Director, Tim McLean, was privileged to have the opportunity on 19 March to present to the Manufacturing Club at the Fudan University School of Management. Fudan University has one of the most prestigious MBA programs in China and the Manufacturing Club included Managers from major global companies such as Unilever, United Technologies and Magna Corporation.
As a regular visitor to China, Tim shared his experience of the changes in that country over the past decade and how that was affecting manufacturing. Almost every attendee at the Fudan University presentation had tales to tell about loosing production volume from China to other countries, whether it was machine tool production moving to Eastern Europe, electronics to Malaysia or garment manufacturing to Indonesia or Bangladesh.
Tim's message about how Lean in China could improve competitiveness was three-fold:
Simplify international supply chains and reduce lead times and inventory.
Streamline operations in Chinese factories to reduce waste.
Change the manufacturing culture to focus on continuous improvement.
Audience feedback indicated that Tim's experience of visiting many factories in China combined with having been through the massive competitive pressures and restructuring in Australian manufacturing, both made the presentation highly relevant.
Lean in China has a long way to go, but based on the audience at Fudan University, progress will be fast as the need for change is becoming increasingly urgent.
View the Presentation