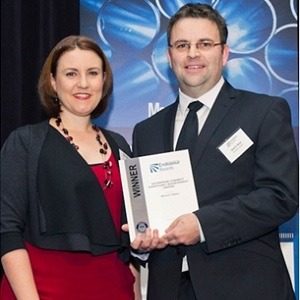 A highlight of Austech 2013 was learning that one of our customers, Ronson Gears, was the winner of the Enterprise Connect Significant Achievement Award at the annual Endeavour Awards. The award recognised for implementation of lean manufacturing that directly leads to an increase in sales exports and productivity. Ronson is a manufacturer of high-quality metal gears and has worked with TXM Senior Consultant over the course of 2012 to implement a lean production system.
"Traditionally, orders would tie up machines for a week at a time, holding up other work and bringing everything to a standstill. The reduction of batch sizes enabled us to deliver gearing to our bigger customers on time, more regularly," explained Gavin New, Ronson Gears' marketing manager.
The Endeavour Awards are one of the peak national awards for Manufacturers in Australia with the Significant Achievement Award the top award on the night.
Enterprise Connect is an Australian Federal Government program that offers comprehensive, confidential advice and support to eligible Australian small and medium businesses to help them transform and reach their full potential.
Ronson's achievements and TXM's role in helping achieve these were featured in Manufacturers Monthly Magazine.
Link to the Manufacturers Monthly Article.
Congratulations to Ronson Gears!
Well done to Rob Chittenden supporting their achievement.