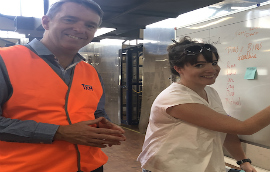 Here at TXM Lean Solutions we take great pride in helping organisations improve and grow, helping them along in their Lean journey. We work across a wide variety of industries, organisations and companies providing Lean Consulting and Training.
Working with TXM has given me the opportunity to work with some great community centric organisations on improvement projects that really help people in need or the wider community on a whole.
Ability Works Australia is one of those organisations I have had the great pleasure of helping on a pro-bono basis. I helped Ability Works with the review of manufacturing methods, optimised space management, continual waste reduction, improved crewing decisions, increased productivity tempo and maximised output results.
I also helped facilitated live training sessions combining theory and practical exercises around 5S principles, Leadership and Lean Thinking for all facets of the organisation.
Being able to see the improvements happen right in front of me and seeing the results immediately gives me a great sense of pride knowing the community is continually improving. I had a great time helping Ability Works apply Lean Methodologies across their processes and helping them prepare for their digital expansion.
"The tools applied to our process lines and workflow lay-outs were invaluable, preparing us for a new growth phase and the expansion of our Digital Technology unit."
– Tamsin Ashdown – General Manager, Ability Works Australia