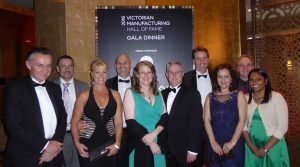 TXM Lean Solutions are delighted to be selected as Finalists for the Professional Services Award at the 2016 Victorian Manufacturing Hall of Fame. TXM was nominated by the Australian Industry & Defence Network(AIDN), the peak industry association for small to medium enterprises (SMEs) wishing to do business in the defence and security sectors.
TXM Managing Director, Tim Mclean said that "reaching the Finalist stage at the 2016 Victorian Manufacturing Hall of Fame clearly recognises TXM's valuable contribution in working with companies to enable them to innovate and grow in the manufacturing sector in Victoria. Increasingly we are an international business working across industry in sectors such as Oil and Gas, Logistics and Industrial Services, however we are all manufacturing people and our heritage is in manufacturing. We are immensely proud of the contribution we have made to Victorian manufacturing and very grateful to the industry for the exciting and challenging careers it has provided us."
TXM has worked for over a decade assisting hundreds of Victorian and Australian manufacturers large and small to improve their competitiveness using Lean thinking. TXM has assisted hundreds of manufacturers, large and small to increase productivity, reduce waste, improve customer service, increase flexibility and reorganise their factory layouts. Most importantly, TXM has helped unleash the potential of these businesses enabling them to innovate and grow. Several of TXM's customers have doubled their sales following implementation of TXM Lean business processes.  It has also helped develop a generation of Victorian Lean Leaders, both through coaching at the enterprise level as well as through the Leadership for Manufacturing Excellence programs we have presented for over five years in collaboration with Geelong Manufacturing Council and AIDN-Vic.
The Victorian Manufacturing Hall of Fame has been established to publicly acknowledge excellence in Victorian manufacturing and to promote this excellence to a global industrial market and the general public.
All companies nominated for Victorian Manufacturing Hall of Fame recognition must have a manufacturing plant located in Victoria or demonstrate specialist design services directly connected to Victoria's manufacturing industry.
TXM has been active in the manufacturing community with memberships of AIDN-Vic, Austmine, AMTIL, SEMMA, AME and ISPE. TXM Directors regularly present free seminars and workshops as well as sharing practical ideas to improve manufacturing performance through our popular on line videos and blogs www.txm.com.au