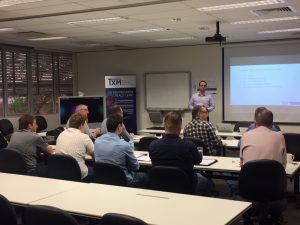 After a lot of hard work by the AI Group, the TXM team and the other program partners, the Victorian Regional Manufacturing Clusters program is now underway across the state. Over sixty companies in eight cities have already signed up for the comprehensive program which includes expert coaching in innovation, exporting and training as well as the Lean program lead by TXM.
Participants have already started learning about fundamental Lean concepts such as Value Stream Mapping. Every company is developing projects that will deliver real value to their bottom line.
On top of excellent networking and training sessions lead by experienced TXM Lean experts, every company is benefiting from hands on on-site coaching to ensure that their project ideas turn in to reality.
Several groups are already at capacity, but if you are interested, spaces remain in Mildura, Echuca, Warnambool and Gippsland.