Client Health Technology Provider
Location China
The Challenge
Our client is a world leading health technology company focused on improving people's health and enabling better outcomes across the health continuum from healthy living and prevention, to diagnosis, treatment and home care. A core team in China with IT professionals are divided in care teams (such as hardware, network, telecoms and applications). These teams co-ordinate a range of third party suppliers, including an IT help desk services from Malaysia.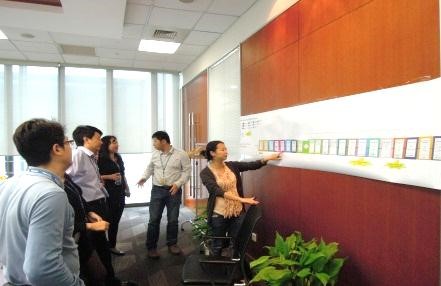 The quality of IT support services was a major source of frustration for our client office staff in China. Issues often took too long to resolve and in some cases were closed before they were truly fixed. Problems frequently occurred in the hand-over of problems between service providers (e.g. between application, hardware and network support) and this often lead to excessive delays and tickets being closed when the issue was not resolved. Our client selected IT helpdesk services as a pilot project in order to apply Lean to its business process.
The TXM Solutions
TXM employed our proven Business Process Value Stream Mapping and A3 Structured Problem Solving methodologies to analyse and improve the IT Help Desk Support processes at our client.
TXM facilitated a discussion with the project steering committee which included management stakeholders, IT Helpdesk Services and all of the User Care Teams. This approach was used in order to gain agreement in defining the problem and improvement objectives necessary for the IT Help Desk Services. 2 core value streams were selected these include mobile plan and non-standard hardware.
TXM facilitated our client team to use the business process value stream mapping to identify the problems and develop solutions that addressed the problems causing the greatest impact on users.
A detailed action plan was developed covering the steps needed by 0ur client to implement the new processes and address the key problems. These action plans presented in the A3 one-page plan format. These outlined specific improvement activities required to achieve the future state.
After the VSM workshop, TXM coached the Our client teams around 3 months to implement their A3 plans. TXM also coached the teams to use daily problems solving to find and fix the root causes of everyday service delivery issues. This approach meant that major issues were addressed through A3 problem solving and at the same time the teams addressed the root causes of minor service issues as they occurred.
The Results
After 3 months of Lean implementation of IT processes, great achievements were made which included:
Lead time for mobile phone service request were reduced from 64 days to 9.3 days;
Lead time for non-standard hardware were reduced from 37 days to 6 days;
The number of ageing Telecom service request > 10 days is reduced from 140 (peak) to 30;
Calls handled by communications team was reduced from 380 per month to 121 as fewer issues occurred in IT processes
The pilot Lean project in IT processes demonstrated how Lean can work across business processes and create a Lean awareness among IT processes and build a greater foundation for further improvements.