Client Ferguson Plarre Bakehouses
Location Melbourne, Australia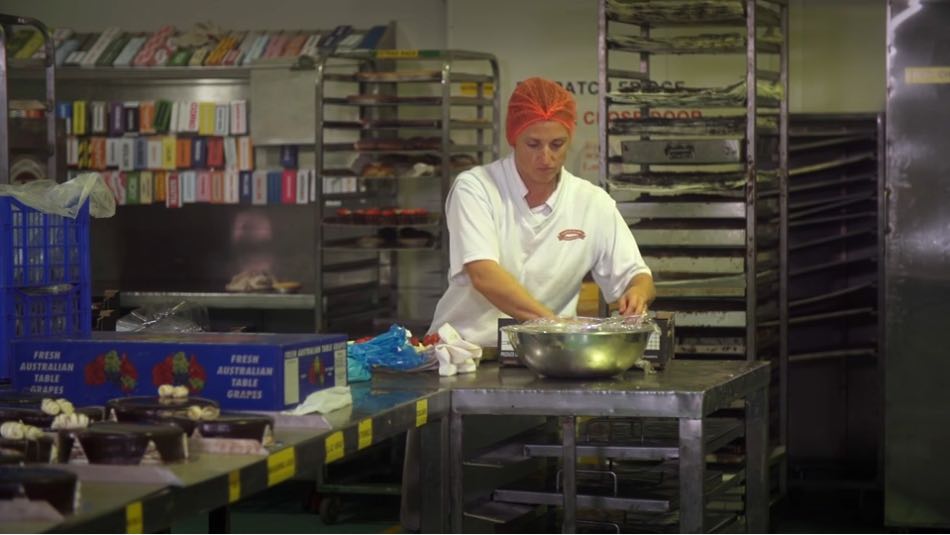 Ferguson Plarre baker creating one of their signature cakes.
The Challenge
Ferguson Plarre Bakehouses is a family owned and operated bakery business based in Melbourne, Australia. The business began as two separate entities with the families coming together to form Ferguson Plarre Bakehouses in 1980. Ferguson Plarre now has 76 stores across Victoria.
They are a leading industrial bakery, servicing a chain of over 70 company-owned and franchised outlets every day with a wide range fresh baked cakes and pastries. Their food industry Lean transformation was based on 5s and Lean Daily Management. This is typical for fresh food industry Lean manufacturing.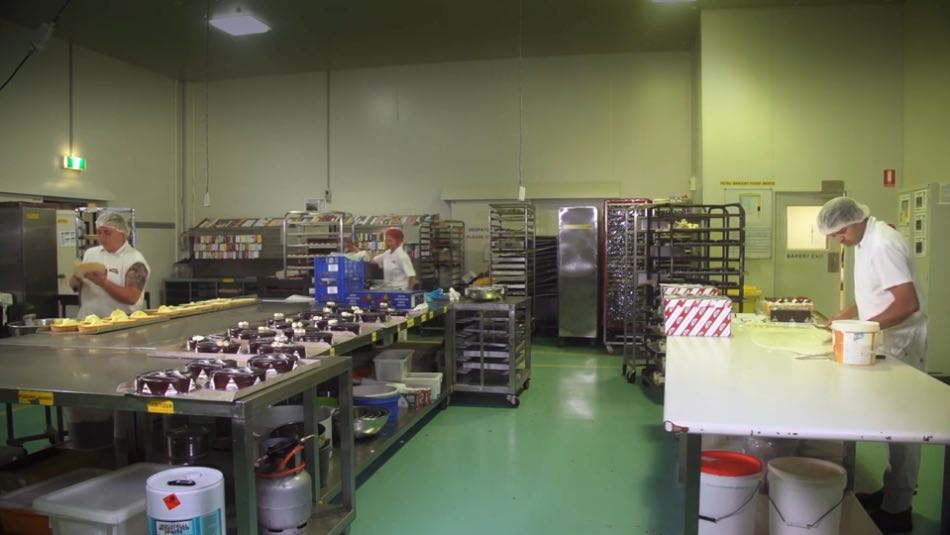 "Visual Control" of ingredients have made the Baker's job easier and more efficient at their new site.
The business had recently relocated to a new site. However poor work practices had followed the relocation to the new site and the operation now suffered from poor housekeeping, low employee engagement and high levels of waste and defects.
The TXM Solution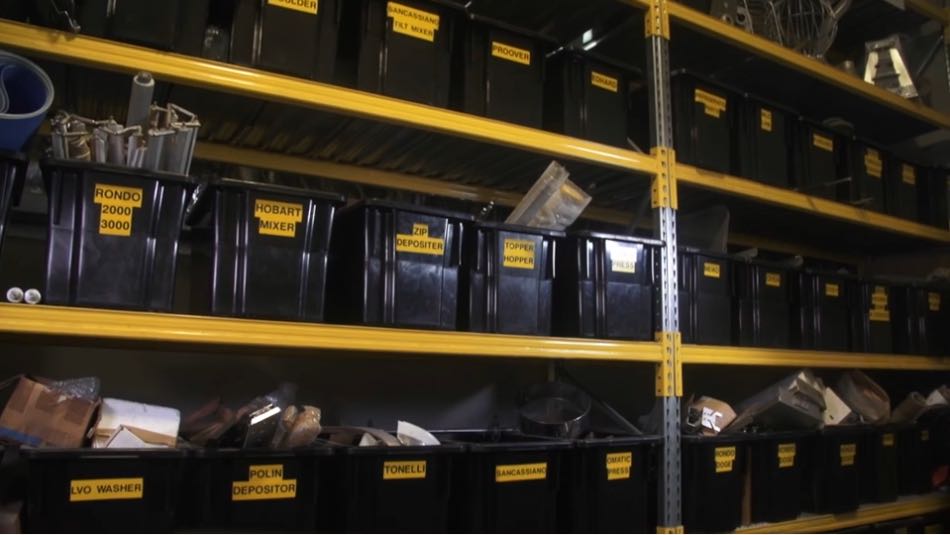 Baking equipment and maintenance tools 5s'd for easy management & access.
At the client's request TXM initially focused on 5S. This started in the warehouse and was quickly implemented across the entire site. The business achieved dramatic improvements in housekeeping and cleanliness (essential in a food operation).
Visual standards and 5S auditing were established and red-green task boards (Kamishibai) were used extensively to ensure routine tasks were completed.
5S was used to control materials and ensure that key ingredients were always available where they were needed. Kamishibai also included routine clean, tighten, check, and lubricate tasks on key machinery to improve machine performance.
5S was then used as the platform to introduce the TXM Lean Daily Management System (LDMS ™). A communications board with key metrics and information, a daily meeting in each department, and a daily site level meeting in the production office were put in place. Key metrics of waste and labour cost were also established for the first time.
Structured problem solving was established using the TXM Solving Problems Every Day (SPED ™). Methodology.
Finally key product lines were streamlined using value stream mapping and the maintenance team were engaged in 5S and LDMS ™ in the maintenance area.
The Results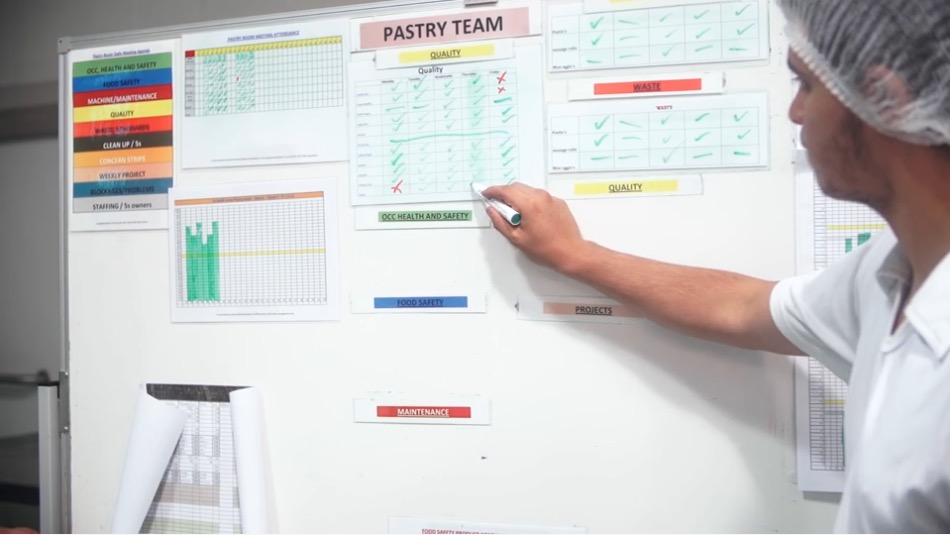 Pastry Team using visual management to keep baking targets on track.
Our client is now a benchmark site for the baking industry with outstanding cleanliness and efficiency. Labour productivity has increased as lines can be set up and run quickly and downtime has dramatically reduced. A food standards "HACCP" audit is ready every day and non-conformances are minimal and quickly addressed.
Ingredients are always available at point of use and control of key ingredients has improved significantly.
Every area has a daily meeting where quality, cost and waste are reviewed and problems solved every day. This has lead to ongoing reductions in waste and labour cost in the hundreds of thousands of dollars.
Employees at all levels are engaged in improvement and front line leaders have taken a "step up" to improve their areas. This has taken much of the day to day pressure off senior management enabling them to focus on the longer term challenges of the business. Everybody has defined tasks every day that provides a sense of teamwork.
In summary, costs are reduced, people more motivated, product quality is more consistent and there is better teamwork across shifts.
PURCHASE THE LEAN TOOLS USED BY FERGUSON PLARRE INCLUDING RED-GREEN TASK CARDS (KAMISHIBAI), TPM CARDS AND PROBLEM SOLVING CONCERN STRIPS.