By Justin Tao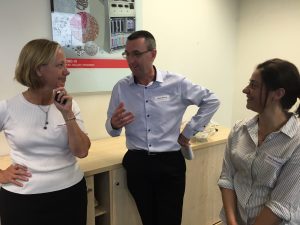 When I worked at Toyota 13 years ago, I learned that lean manufacturing is about developing people. This belief was reinforced last Friday at the Best Practice Network's workshop – 'Strategies and Insights for Developing Your Lean Leaders'.  Held at Leica Biosystems Melbourne, the workshop was facilitated by Cheryl Jekiel, founder of the 'Lean Leadership Resource Center.'
For recruiters, the first question is, "What competencies do we look for in a Lean leader?" Cheryl identified seven principles important for Lean leadership:
promotes customer focus within the organisation;
ability to coach extensively on continuous improvement;
adept at stimulating employee involvement in change management;
values and supports process standards;
expertise in coaching teamwork when problem-solving;
creates the vision for success for their team; and
uses empowerment-based leadership.
A further question raised was, "How can HR help you develop your Lean leaders?" Cheryl explained how HR could help by: building Lean competencies into job design & recruitment; implementing training & development; organising performance management; and by creating a reward & recognition system.
Companies like Toyota, already have well-established training, performance and reward systems, to develop Lean leaders. But for greenfield companies, or companies just starting the Lean journey, hiring the right lean leaders is especially important.
I have seen many companies search for Lean leaders based on their years of experience and the depth of their Lean knowledge. However, when we shared our experience in groups, we found that what makes a Lean leader is respect – being humble and listening. It's not about skills, but about attitude. You can train your leaders' skills, but it's hard to change their attitude.
One Chinese HR manager shared an interesting analogy with me about developing people. He talks about getting the horse up the tree. You can use different methods to get a horse up a tree such as: coaching when it's still young; increasing the height of hay up in the tree; throwing the horse into the tree, or cutting down the tree.  However, one CEO challenged with – "If the job is up in the tree, why not use a monkey instead?"
What if your current leaders are struggling? Do you spend time and money on developing them? How you treat them determines how they work. Respecting diverse individuals and valuing teamwork to bring together all abilities, exemplifies the corporate spirit underlying Toyota's culture where 'Manufacturing has been about developing people" since its founding.
A successful client once told me, "The reason my company is progressing so well is because I spend half my time finding the right people to work for me, and the other half on coaching them."
I believe HR can do both of these jobs: to find the right people to work for you; and to help you develop them. So why not involve your HR more during your Lean journey, rather than just trying to implement Lean in the HR department?
Justin Tao is China Lean Consulting Director for TXM, and is one of the most experienced and respected lean consultants in China.