Client Roband
Location Sydney, Australia
In this Lean Plant Layout Case Study learn how a new Lean Layout designed with TXM lead to major improvements for food service equipment manufacturer, Roband.
The Challenge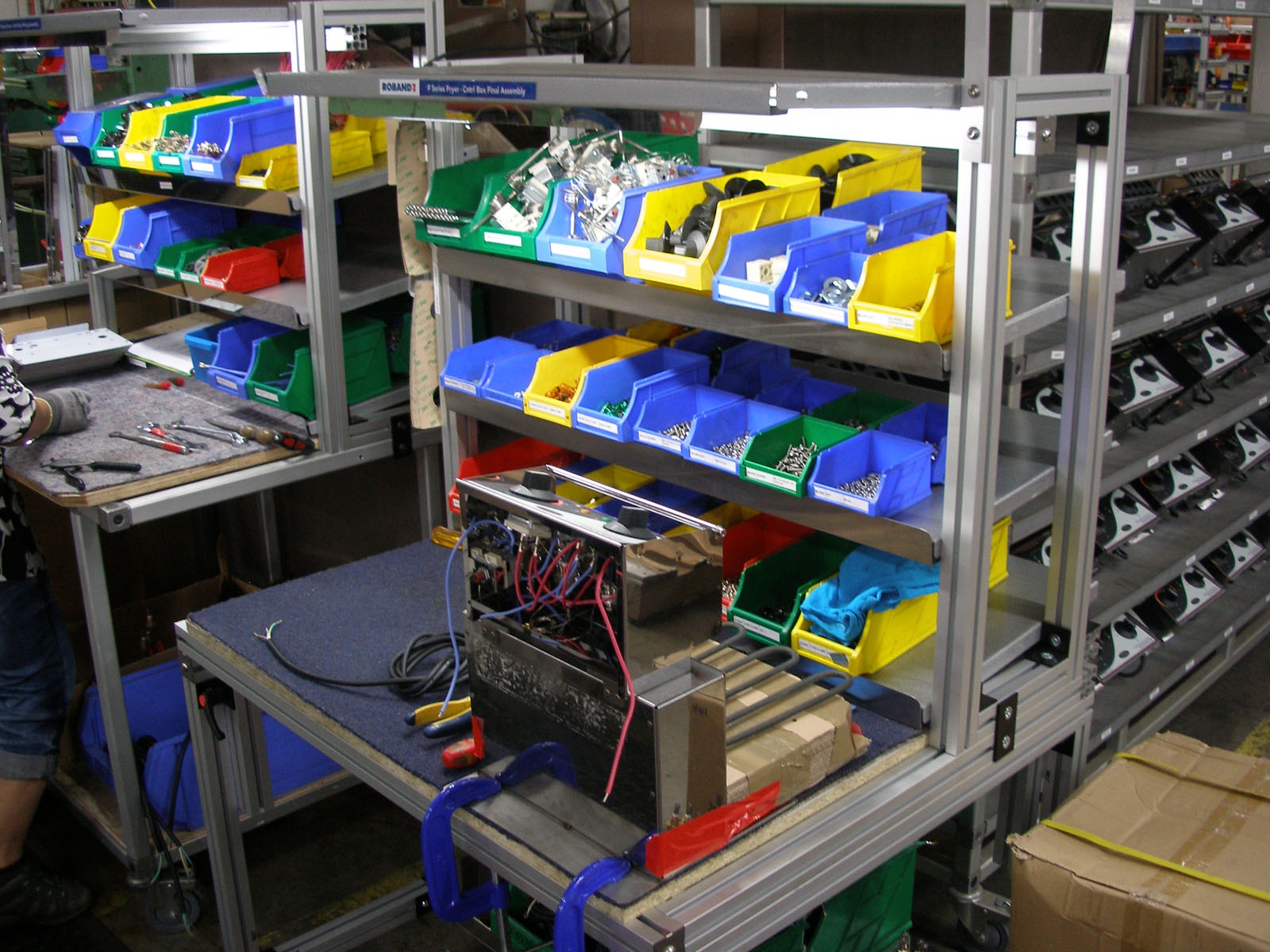 Look in any food hall and you are likely to find a Roband toaster, sandwich grill or food display cabinet. Manufactured at the company's factory in Sydney, the production facility is vertically integrated from coil sheetmetal through to the finished product. Poor production flow over multiple floors and buildings, plus a significant amount of storage for raw materials, stock, finished assemblies and work in progress prompted a re-think and relocation to new premises. The decision was taken to engage external assistance from TXM to design a plant layout utilising Lean Thinking that would improve product flow, productivity and safety and enable the business to grow more effectively.

The Response
TXM consultants conducted a full assessment of the business, identifying 14 product families and worked with management and supervisors to determine the most efficient work cells for each and how best to organise them in the production floor layout. Distances travelled for complete products, feed-in assemblies, material handling and takt time were all taken into consideration.
Analysis of annual sales based on the 14 product families was conducted in order to better understand customer demand and seasonality and consequently material forecasts for parts or finished assemblies. Higher volume items were given precedence in the layout and a hybrid pull system has been developed to trigger production at various stages to satisfy finished goods replenishment based on takt time.
"One of our most popular products, the sandwich grill, started its assembly in sheetmetal folding, and then travelled more than 50m to a different floor for final assembly," said production manager, David Jarman. "With the reconfiguration of the plant layout, the furthest it goes is 3m."
The Results
The company has seen productivity increases of 15% to 40% as a result of the new layout and introduction of work cells. Lead times have been halved and WIP between processes has been reduced from around six weeks to three weeks and less, freeing up large amounts of factory space. Urgent orders under the work cell configuration can be quickly accommodated and the order fulfilled within days. For example, the sandwich grill line had to triple its output for several days to fulfill an export order with a tight shipping deadline and this was made possible due to the inbuilt flexibility of the work cell design..
"The work cell layout means that the staff on each product family line can visually see the status of the production flow and anticipate problems before they occur," said Jarman. "For example, the metal folding operator can see the next process in the sandwich grill production line and feed the line based on demand, which means far less direct supervision and a smoother operation."
"Materials on each product family line are replenished using kanbans, and each line has a full complement of tools and equipment making it easier for everyone to do their job. We have found that staff are happier and work more harmoniously, staff turnover has dropped as has absenteeism and we are developing a far more stable and skilled workforce. The whole operation is now a lot more efficient and we no longer hit the panic button to complete an order."
Visit the Roband Website to Learn More about their Innovative Products