Client Poppy's Chocolate
Location Beenleigh, Queensland
Tasting the Success of Operational Excellence: Poppy's Chocolate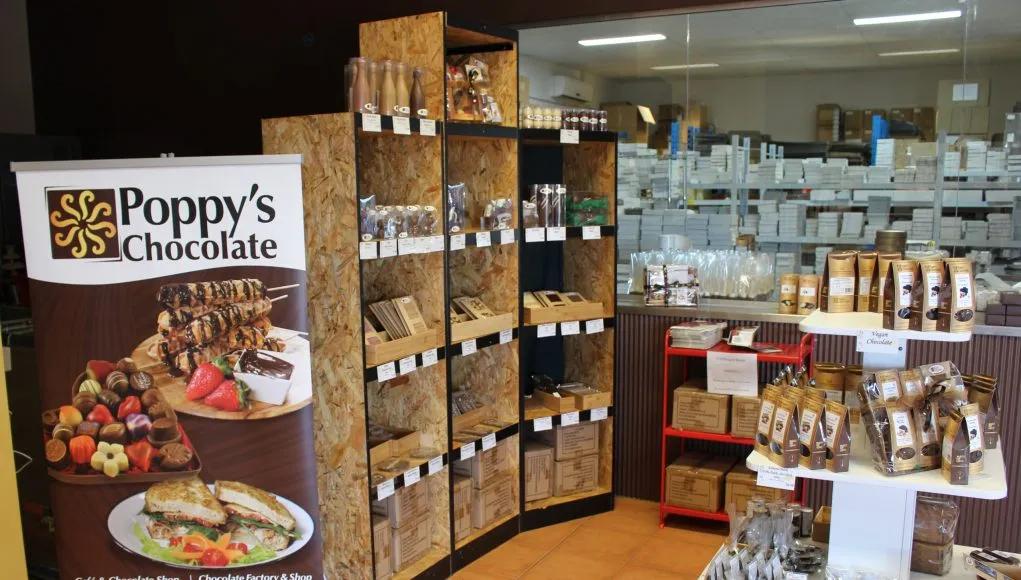 Background
Poppy's Chocolate is a Queensland chocolatier, specialising in crafting exquisite chocolates and confections. Established with a passion for indulgent treats, Poppy's Chocolate has become synonymous with high-quality ingredients, artisanal craftsmanship, and a dedication to creating delectable flavour experiences.
With Poppy's Chocolate's dedication to artisanal craftsmanship, each chocolate is meticulously handcrafted by skilled chocolatiers, ensuring the highest level of quality and attention to detail. This meticulous approach shines through in the intricate designs and textures found in their chocolates, making them not only a treat for the taste buds but also a feast for the eyes.
The Challenge
Poppy's Chocolate have occupied their Beenleigh facility for the past 17 years with a retail showroom for selling directly to the public. Poppy's employ 11 people in their facility and have expanded the facility from one single unit to two adjacent units. The facility includes the finished goods warehouse, production clean room and auxiliary storage space.
Poppy's has been growing steadily and implemented a number of changes to support the growing business. Migrating to more robust and reliable digital systems and introduction of customer service agents to increase customer service. Poppy's have over 300 active SKU's with around 70 high volume lines.
The scheduling system used a manual trigger which feed into a digital system for the weekly schedule. The schedule then drove the planning decisions for the following week. The scheduling system was struggling to keep up with demand and needed to be redesigned.
With 150 SKUs of raw materials, the control of raw materials was also unstructured with a weekly stock take triggering the replenishment process, which was very manual and time consuming.
Watch this short video with Poppy's owner Lynda Pedder about the benefits of partnering with TXM and Senior Consultant Justin Tao.
The Solutions
A comprehensive one-year strategy was devised to address the challenges identified during the initial project scoping phase. The project was divided into two phases: the discovery phase, which involved creating an action plan to be executed by the Poppy's team, and the transformational phase, focusing on implementing an optimised operational model and sustaining the achieved improvements through ongoing coaching and support.
A Kanban system was developed to effectively manage inventory, both incoming and outgoing, enabling tracking of finished goods production and the procurement of new raw materials. To familiarise the staff with the new visual management system, each team member received concise shopfloor coaching sessions.
To achieve a balanced production flow, a visual scheduling system for chocolate manufacturing was introduced. Additionally, TXM Senior Consultant, Justin Tao, implemented the TXM Lean Daily Leadership Process (LDLP) by utilising visual management boards displaying key metrics from previous days and weeks. Daily stand-up meetings were also introduced to foster a culture of continuous improvement.
Watch as Poppy's Operation Manager Meena explains how the supermarket and Kanban system works at Poppy's Chocolate
The Results
The transformation at Poppy's Chocolate is nothing short of amazing. Through Justin's coaching and system support, Lynda and her team are now able to reliably fill orders quicker, more accurately and with less resources. Some of the tangible impact included:
Achieved increased operational efficiency enabling a reduction in the number of operators from 11 to 5.
Improved capacity to meet client orders during peak periods such as Christmas and Easter holidays.
Implemented visual management schedules and standardised work processes, resulting in enhanced system comprehension and usability.
Implemented production leveling and supermarket practices to effectively manage inventory, mitigating issues related to stockouts and overstocking.
Utilised the time saved from eliminating wasteful activities to create new innovative confectionery.
Leveraged the visual management system and implemented Lean daily meetings to significantly enhance team performance compared to previous levels.
Created a robust system that removed the reliance on specific people in the business, thereby enabling the business outcomes to be continuously achieved whilst Lynda, and any member of her team, enjoyed a well-earned break.