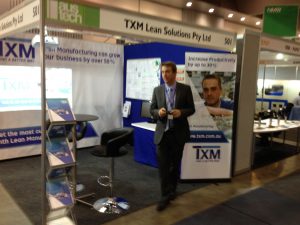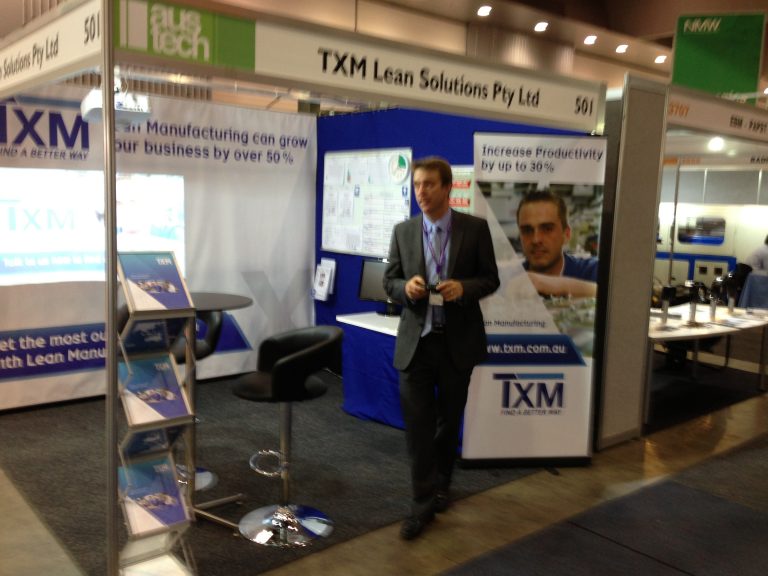 Learn how Lean Thinking can help your business survive and grow from leading Australia's Lean Manufacturing consultants, TXM, during National Manufacturing Week, to be held at the Sydney Showground, Olympic Park, 13 – 16 May 2014. TXM will be located at stand 2422 in the centre of the show right next to the R&D Hub.
The exhibition at National Manufacturing Week will provide a sample of Lean tools and techniques as well as introduce visitors to video case studies, streamed from the TXM video channel, to demonstrate how the company has helped Australian SMEs achieve greater success. On hand to discuss the projects will be highly experienced consultants to discuss the right approach that can realise improvements in productivity, quality, inventory costs and lead times that result in greater customer satisfaction, product quality, and staff morale.
Managing Director of TXM, Tim McLean will be conducting a seminar during NMW to discuss the barriers SMEs face when trying to grow, which are often linked to poor processes and inadequate engagement with their people to enable them to reach their full potential.
"We believe that Australia's manufacturing future is with small and medium enterprises and we have developed effective techniques specifically designed for the needs of growing SMEs," explains Tim McLean, Managing Director of TXM Lean Solutions. "TXM has built a reputation as the leader in helping more than 100 small and medium-sized manufacturers improve their productivity agility and customer service in order to significantly grow their businesses. Our consultants have experienced manufacturing first hand and are well equipped to understand how the business operates and how it can be improved. We work closely with our clients large and small to ensure that improvements are sustained for the long term."
By focussing on developing effective business processes and developing people to work to their full potential, Lean techniques enable companies to develop into sustainable, profitable growing businesses. The results of incorporating Lean tools and techniques speak for themselves.
Ronson Gears provides a case in point by winning the 2013 Enterprise Connect Significant Achievement Award at last year's Endeavour Awards. The company, a manufacturer of high-quality metal gears, implemented a system of Lean production processes that enabled more batches to be processed in any given week. As a result, Ronson Gears were recognised for their increase in export sales and productivity as a direct result of the TXM Lean methodology.
TXM has enabled Roband Australia, a manufacturer, and distributor of foodservice equipment, to better respond to customer demand. The company has a highly diverse range of products found in many commercial kitchens across the country, many of which are manufactured on-site. Roband quickly realised that the original premises, over two floors, and two buildings, was impeding the company's abilities to improve production flow and productivity.
"When we purchased our new premises, we called in TXM to help us establish a new production layout to improve our productivity," said David Jarman, production manager, Roband Australia. "The identification of product families enabled us to better identify parts, lead times and demand for each. Not only have we improved productivity and reduced lead times, but we are finding that staff morale, absenteeism, and participation are vastly improved because people can clearly see what is happening around them and be part of the solution."
Productivity improvement was the initial objective for Macnaught, in Sydney, whose market is primarily export. Macnaught, who, manufacture hose reels, lubrication equipment, and industrial flow meters, often had to react quickly to fluctuating export orders. As a result, the company ran short of parts and manpower on a regular basis and lead times were becoming problematic. "We initially trialled the Lean approach on one product line," said Macnaught CEO, Robert Hill. "Within three months, it was obvious the changes TXM recommended were effective, so we asked for a complete health report on the whole business. It is ongoing, but we are seeing batch sizes halved, lead times slashed to days instead of weeks and we never run out of parts. We have also used the Lean principles to develop a new product which is already indicating that it can be manufactured in a single day."
The skills and expertise of TXM have continued to grow throughout Australia with consultants in each State, to help SMEs realise their potential and stay competitive in a challenging economic environment.
"The examples outlined are just a small representation of what can be achieved when Lean manufacturing tools and techniques are incorporated into a business," said McLean. "We look forward to discussing with visitors to National Manufacturing Week what benefits a Lean culture can make to their ability to grow and survive." Mr. McLean's presentation will be given on Thursday 15th March at 1.30 pm in the R&D hub area next to the TXM stand at National Manufacturing Week.