Client EGR Inc.
Location Ontario, California - North America
The Challenge
Based in Ontario, California, EGR Inc. is a fast-growing manufacturer of Automotive accessories. EGR Inc. manufacture a wide range of moulded aftermarket accessories including bonnet protectors, weather shields and fender flares for major Automotive OEMs as well as for the aftermarket sector.
Nick Adams – Expected substantial growth, but did not know how to get there. A lot of legacy and culture that would not allow business to grow. The key to the automotive accessories market is having the right product available for the right vehicle when the customer needs it. This means that many SKUs need to be manufactured and stocked. Product life-cycles are also short, making a high risk of obsolescence.
EGR Inc. had an inflexible production process with high levels of work in progress, constant expediting and long lead times. These problems were compounded by a poor factory layout that locked in high levels of waste and a culture of keeping production going to keep staff busy. Front line leaders lacked skills, measures, empowerment and accountability. This meant that most problems and decisions got passed up the line, overloading senior leaders and causing high levels of stress in the management team.
Operations Director Nick Adams said, "The business was expecting substantial growth through new contracts. We recognised that we had a lot of legacy processes and culture that would not cope with the additional volume and complexity. We also recognised that we did not have ability to make the changes we needed without help."
TXM had worked successfully with EGR's Australian sister companies to improve performance. EGR's owners, therefore introduced TXM to EGR Inc. in early 2016.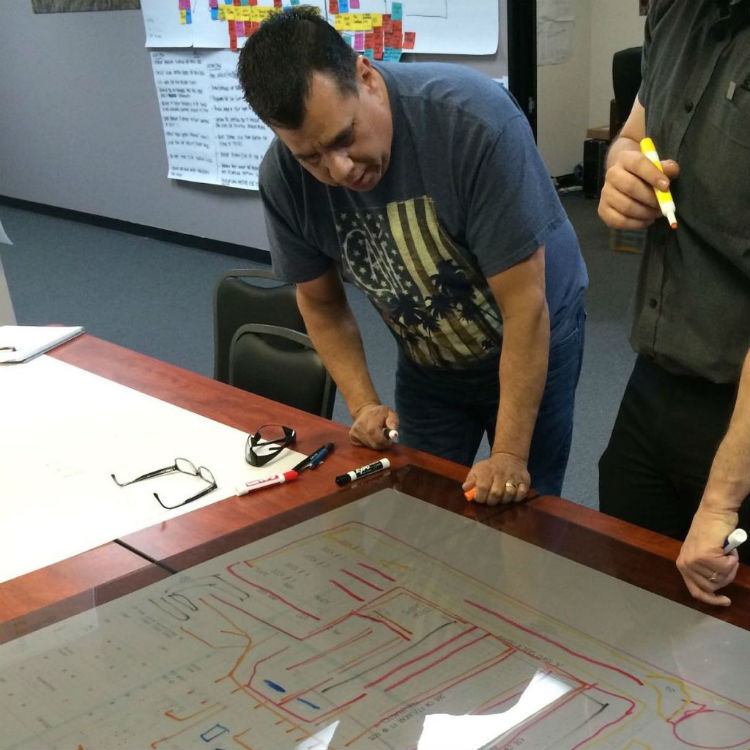 The TXM Lean Solutions

TXM Director, Ron Spiteri coached EGR Inc. to develop and implement an efficient and reliable operations management system. A value stream map was used to help the EGR team to understand their product flow and eliminate waste and lead time. This lead to major change in the operation including implementation of a new facility layout, establishment of a Kanban replenishment system for high volume parts, more effective use of system tools to manage low volume parts and an effective finished goods strategy to actively manage the product range.
To sustain these process changes, EGR needed to develop an effective Lean management system. This started with establishing SMART metrics, getting these displayed throughout the business on visual management boards and updating them every day. Recording the data is one thing, turning it in to action is another. Therefore, Ron coached leaders at all levels at EGR Inc. to run effective daily stand up meetings. Leaders structured their day and ensured that they kept on track with their key leadership responsibilities using leader standard work, routine walks through the operations.
An Accountability Board ensured that leaders were accountable to their teams for following through on their promises. Nick Adams was particularly struck by the impact of leader standard work, "once I established my leader standard work and set my daily "must do" tasks, the impact was immediate. I then got my team to develop their own lists of must do tasks and this had a similar impact for them. Making our leader standard work visible made us accountable to each other and our team and ensured that we followed through on sustaining the process."
Finally, EGR Inc. needed to be able to solve re-occurring problems and ensure that they stayed solved. Ron coached everyone in the business on the use of structured problem solving techniques using the "Plan-Do-Check-Act" principle. This meant that the business could progressively eliminate many of the problems that plagued the business over and over again.
According to John Whitten, President of EGR Inc., "Ron did not just give us the solutions. He gave us the tools and confidence to find the solutions ourselves. He taught us to do very in depth analysis to understand our process and solve problems. Then once we had implemented an improvement, one of the most powerful disciplines he taught us was to go back and check and make sure that fixes were sustained."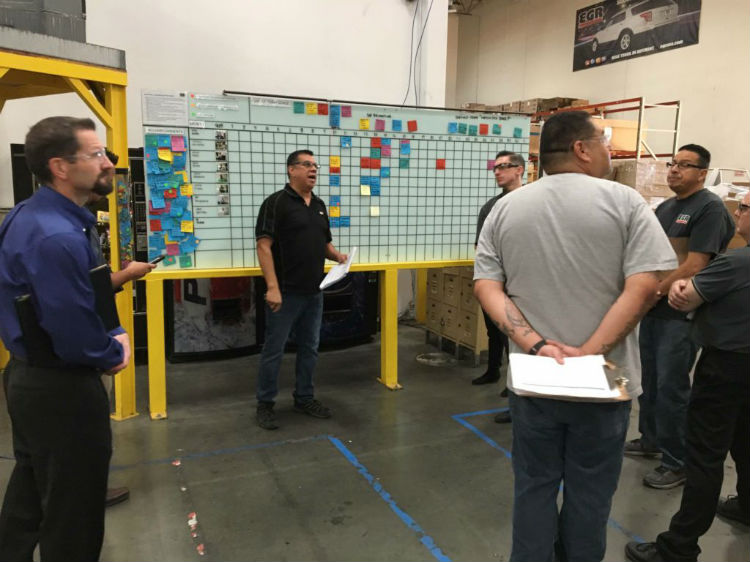 The Results
Adams said, "Ron helped the business put in place effective measures and make performance visible for everyone. This ensured that team members and leaders were accountable for delivering in their area of responsibility. Overall we achieved a big change in focus and culture from constant trouble shooting to problem solving."
TXM support at EGR Inc. delivered spectacular business improvements over 18 months.
Achievement of a 45% revenue growth using the same space, equipment and overhead resources.
35% reduction in Made-To-Stock Finished Goods Inventory Level and 58% improvement in Inventory Turns.
21% increase in labor productivity.
Reduction of manufacturing lead time from 7 – 21 days to a consistent 4 days.
57% reduction in Work-In-Process.
John Whitten, President of EGR Inc. said "Ron brought a fresh perspective to a lot of the issues that we were trying to resolve. He gave us honest feedback in a very respectful way and helped us remove the roadblocks in our business. This has left us with a lasting legacy as Plan-Do-Check-Act thinking is now part of our culture"