Client Olam Orchards
Location Murray River, NSW/VIC, Australia
Background

With 15,000 Ha of orchards located along the Murray River in Victoria and NSW, Olam Edible Nuts part of Olam Orchards Australia is one of the world's biggest producers of almonds. During the harvest season, the objective is simple – the machinery needs to get the nut crop off the trees quickly and efficiently. Reliability of equipment is therefore vital. If the equipment keeps breaking down or is faulty then the harvest takes longer to complete which costs more money in labour and lost or degraded product.
This was a typical scenario at Olam, where the peak of harvest was often riddled with equipment breakdowns. This led to shortages of useable equipment. Maintenance was done on the run and there was no clear system to address underlying reliability issues. This then led to expensive equipment having a short operating life and spiraling maintenance costs. Senior leadership at Olam Edible Nuts recognised that there was a need for a radical change in the management of maintenance and engaged TXM to drive that change.
Equipment Maintenance
"Harvest time was a busy time at Olam, most of the farms did not have a robust or reliable repair mechanism in place to address machinery breakdown. Maintenance tended to be reactive rather than proactive", says Justin Tao, the TXM Senior Consultant who led the Olam Lean Maintenance program.
"A lot of money was spent repairing machines during harvest which then would prolong the harvest. The equipment tended to be unreliable and wasn't lasting very long. There was no ongoing maintenance process in place and when it did occur it was often a quick fix or a repair once the machinery completely broken down. This had to change", says Justin.
The equipment was also being damaged by poor operations. Operators are often backpackers or labourers who lack experience or receive accelerated training. Language difficulties meant simple mistakes were being made, such as adding the wrong oil to a machine or even filling a fuel tank with water. These mistakes often had catastrophic results.
Maintenance Workshop

The 12 Olam farms each had their own local workshop. These maintenance workshops were very messy spaces that needed to be reorganised. Detailed instructions on machinery maintenance existed but the operators found these too long and difficult to read and understand.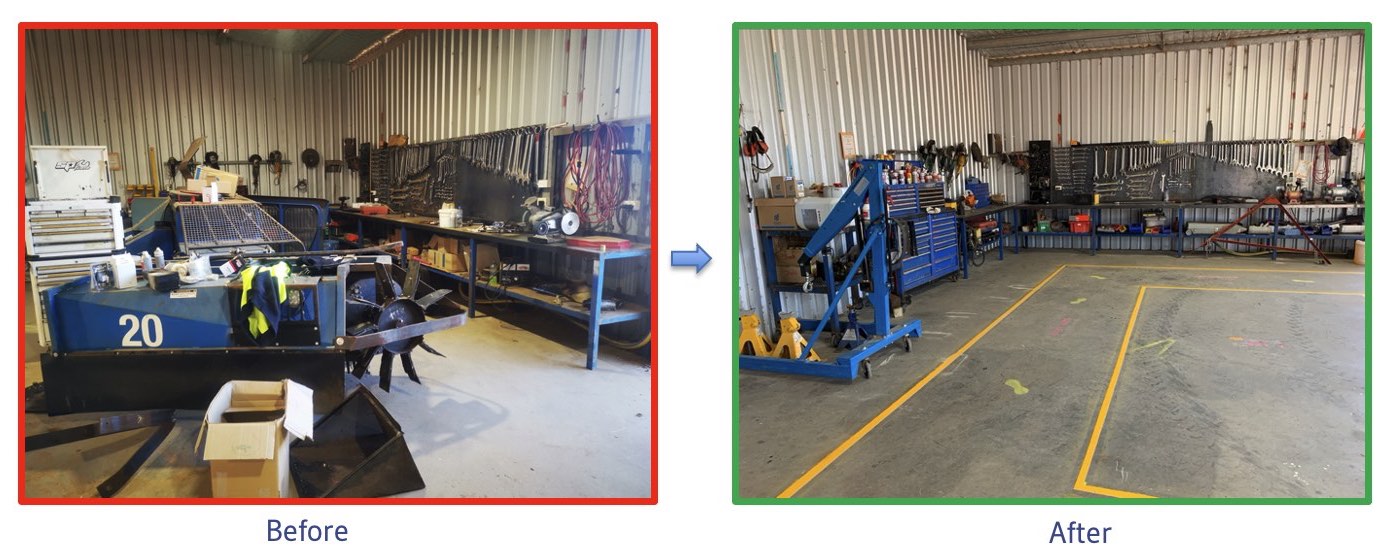 Development of Lean for the Maintenance of Agricultural Equipment
The TXM Lean maintenance program focused on mobile equipment used in the orchards. This included specialised harvest equipment as well as general equipment such as tractors, spray units and ATVs that are used all year round. In addressing the maintenance and repair of agricultural equipment TXM coached Olam to overhaul its whole approach to how maintenance of equipment is carried out. In doing so Olam has created a more effective and efficient system that has proven to be unbreakable during harvest time.
Lean Visual Management

5S has been used extensively throughout Olam sites to improve the organisation of workstations, management of tools and spare parts storage. It has also been applied to fuel and fluids management with colour coding used to prevent costly errors.
Lean visual management was used to create a functioning workspace and minimise the costly mishaps that were occurring in the workshop.
Maintenance workshops were reorganised and Practical 5S was established to put everything in order and to display all the tools required for maintenance. Simple graphic "one-point lessons" have been developed to show how to do common repairs and checks. "The use of pictures makes repair instructions much easier to understand", says Justin. The workshops are now well organised, and areas have been established to differentiate spaces for plant maintenance, harvest equipment and general equipment.
Pre-Start Checks Introduced
"Operator maintenance prestart checks engaged operators in routine minor preventative maintenance and gave the casual operators ownership of the maintenance and safety of their equipment. It also created accountability" says Justin.
Visual Job Cards to Address Repairs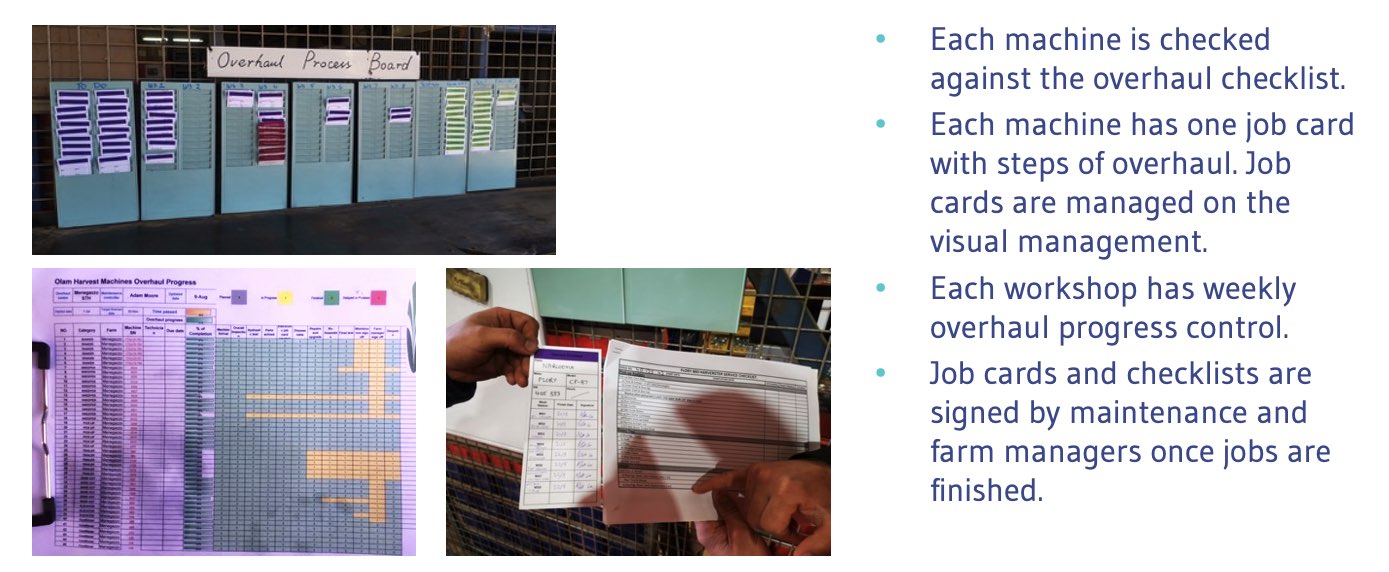 Visual management was applied in establishing a visual job card system for the maintenance of machinery tasks. This was called the Repair Card. Two colours were used. Red to identify the problem and green to indicate when the problem was fixed. The red side of the card was used to write what repair needed to be done by and when this repair was complete.
The card would be turned over to the green side to show everyone that the repair was completed. This weekly maintenance system has made a big difference for Olam. "Now farmers know what maintenance is being done", says Axel Krens, a TXM Senior Lean Consultant who supported Justin in setting up Lean foundations in the farm workshops.
Overhaul Centres Address Long Term Equipment Breakdown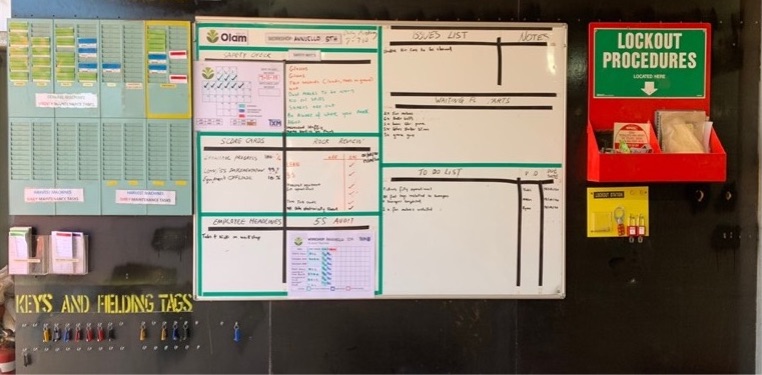 Overhaul centres have been added to Olam's operations which now sees up to 50 shakers, sweepers, elevators, trailers and pick-ups go through an annual overhaul and pre-harvest test to check any faults. Overhaul was previously done by each farm and to an inconsistent standard, if at all. Now it is all done in the one place for each category of equipment. Justin says, "It is no longer a reactive operation to addressing equipment breakdown mid-stream but a proactive one focused on preventing breakdowns.
"Having reliable equipment ready to go at the start of harvest has been a huge improvement for the Olam Harvest Team", says Tim Mclean, TXM Director. Tim recalls visiting a farm early on in the project where only two out of nine harvest machines were operating. "The workshop was full of broken machinery while expensive harvest labour was unable to work because they had no machines to operate. This same farm now has all 9 machines fully operational", says Tim.
Lunch – Time Pit Stop Service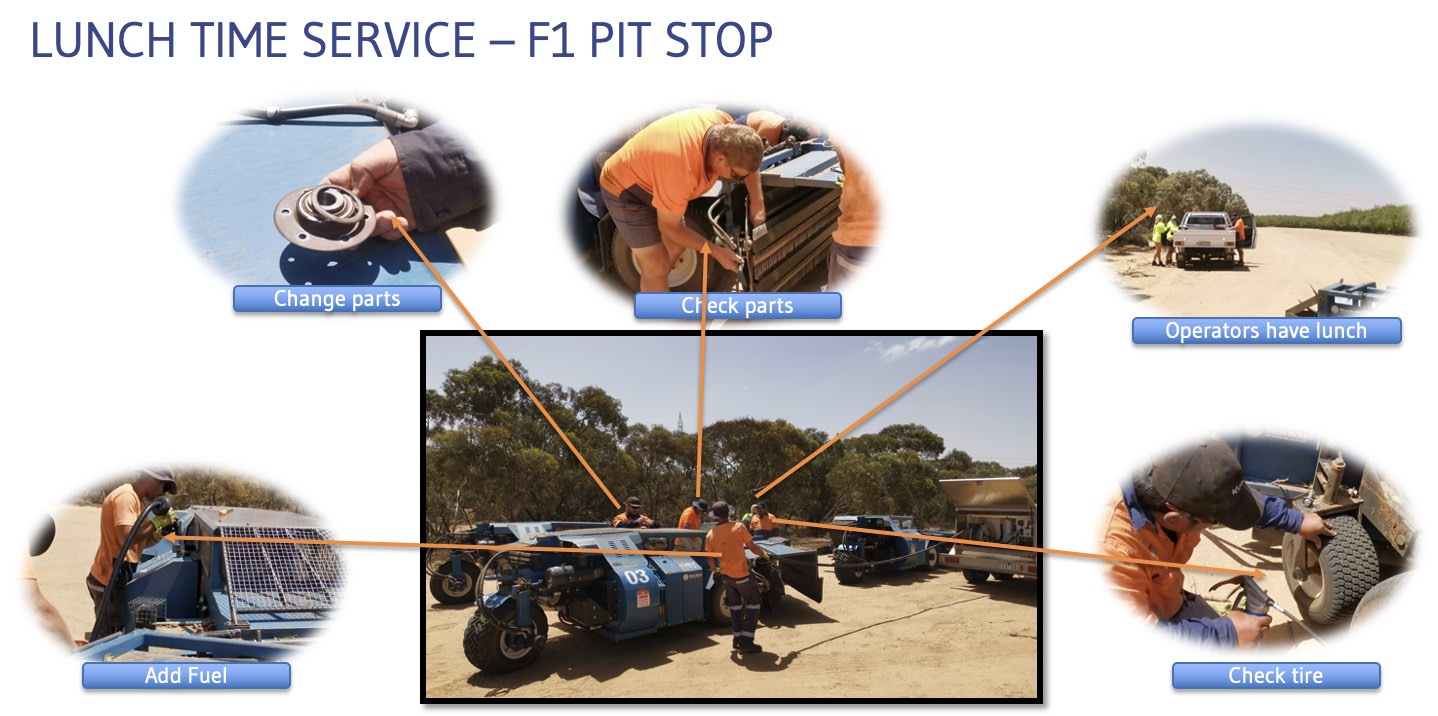 Another key innovation introduced by TXM was the "lunch time pit stop service". This involved maintenance crew checking the equipment while the machinery stopped during lunch breaks. This preventative maintenance routine meant equipment was no longer breaking down and the harvest operation was running more smoothly through the whole day.
Operational Leadership Engagement Across Olam
Increased engagement of operational leaders (Farm Managers) in maintenance and overhaul has given a boost to the farming operations and greater confidence in sharing knowledge and best practice across the farms to the benefit of all in the performance of regional overhaul. This is a welcome change for farmers as there were huge differences in operations across the farms. The first phase of the Lean maintenance has seen the successful setup on the foundations so that after two years Olam is now reaping the benefits says TXM Senior Consultant Luciano Peloche, who is leading the final phase of the Olam project.
Results
According to Luciano, Lean practices and procedures are now evident and implemented in all operations. Maintenance costs have been reduced. Maintenance technicians are very happy with 5S improvements as their workshops are safer, better organised and more productive. Planned maintenance procedures are being followed reducing breakdowns. Maintenance visual management boards are being updated daily and Maintenance daily meetings are happening every day in the workshop.
"These have greatly improved communication and the culture in the workshops, especially at busy times", says Luciano. All machinery and equipment breakdowns are now being recorded. This is providing a valuable source of data to drive further improvement in maintenance. It is also leading to discussions with machinery manufacturers on design changes that will reduce common failures.
Increased engagement of operational leaders (Farm Managers) in maintenance and overhaul ensures greater confidence in their machinery and in the performance of the regional overhaul. Established controls, approval steps and problem solving have improved the quality of overhaul and the control of costs on overhaul.
"Olam is entering the next phase which is looking at how to use data for problem solving. Olam has been very open minded in accepting Lean improvement methods to their practices and this attitude has led to successful implementation of the Lean Maintenance approach. This in turn will enable harvest to run more effectively and more profitably in the future" says Luciano.
According to Pierre Van Rensburg, General Manager of Orchard Operations at Olam Orchards, "The TXM Lean Maintenance project has led to a positive culture change across our Australian orchard network. Efficiency in harvesting and general operations has been increased as operators are no longer having to contend with constant machine breakdowns. Machine life has been extended and operating costs reduced."
Mobile equipment in an Almond orchard is not the typical place you would expect to find Lean and Total Productive Maintenance in action. However, it is a great example of how TXM is able to use our deep knowledge of Lean and TPM to solve complex problems in innovative ways.