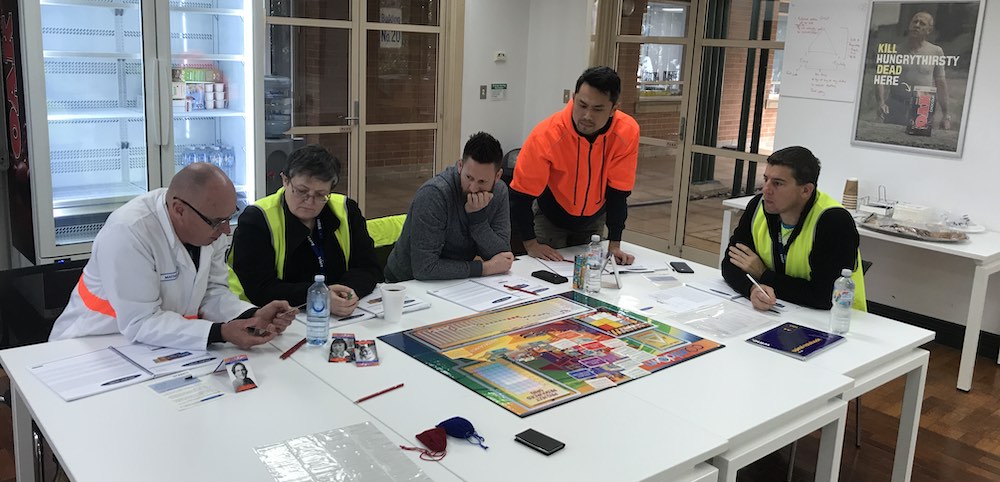 Countdown Project Management Game in full swing at Lactalis (formerly Parmalat).
The 2019 Leadership for Operational Excellence has been a great success with the majority of classes being sold out!
In 2020 TXM & Best Practice Network will be running the workshops across the eastern coast of Australia in Victoria, New South Wales and Queensland.
Which means we are looking for host sites for our Leadership for Operational Excellence workshops, we provide a mutually beneficial arrangement where the host provides the site and TXM Training will coach up to 3 of your employees at the module you host.
"The key benefits I took away from the course was learning a range of practical tools and techniques that can be applied on-site at the refinery for immediate results. I learnt a great deal about root cause analysis and building high performing teams."
– Mike Pearce – Project Lead
"TXM's Lean Leadership Introduction module was brilliantly delivered by Brent Johnstone and gave great ideas to expand human capital and progress velocity in any operation."
– Magnus Aahlen – Lean Coordinator
Our workshops are a balanced mix of theory, practical examples and site tours. This allows attendees to gain a better understanding of how Lean methodologies and techniques are applied in the workplace.
If you wish to become a host site for The Leadership for Operational Excellence Program 2020, we currently have space to host in Victoria, Queensland and New South Wales.
If you would like to host a Workshop you will need to provide the following:
A meeting room with up to 16 places with computer + projector hook up for TXM Practitioner.
An overview of current operations of the site.
A site tour/section for TXM Training to conduct the practical portion of the workshop.
The proposed 2020 dates for each state are below. By hosting you will receive up to 3x complimentary places ($2700 +GST) at the workshop you host. 2x for hosting OR 3x for hosting and providing catering.
If you would like to host on any of these dates, contact

[email protected]
Victoria 2020
Lean Leadership Workshop – Feb 19th
Lean Manufacturing Simulation – March 18th
Lean Daily Leadership Workshop – April 22nd
Practical 5S Workshop – May 20th
Solving Problems Every Day Workshop – June 24th
Project Review – July 22nd
Supply Chain – August 26th
Problem Solving – September 9th
2-day VSM – October 14th
Countdown – November 10th
New South Wales 2020
Lean Leadership Workshop – Feb 12th
Lean Manufacturing Simulation – March 11th
Lean Daily Leadership Workshop – April 29th
Practical 5S Workshop – May 27th – Scientific Gaming Australia
Solving Problems Every Day Workshop – June 22nd – Street Furniture Australia
Project Review – July 29th
Supply Chain – August 19th
2-day VSM – September 16th
Countdown – October 21st
Problem Solving – November 11th
Queensland 2020
Lean Leadership Workshop – Feb 26th
Lean Manufacturing Simulation – March 25th
Lean Daily Leadership Workshop – April 22nd
Practical 5S Workshop – May 13th
Solving Problems Every Day Workshop – June 17th
Project Review – July 15th
Supply Chain – August 12th
Countdown – September 9th
2-day VSM – October 21st
Problem Solving – November 18th
If you would like to host on any of these dates, contact

[email protected]